The 2014 Plant Sale Is Coming!
Submitted by Webmaster on Fri, 03/07/2014 - 07:01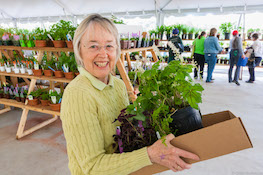 A Happy Buyer
It's been a long cold winter with a good snow cover to protect our plants but in these dark cold days we need to put a little PIZZAZZ into our lives. The 19th Annual Friends Plant Sale is focusing on creating gardens with pizzazz by adding a little zing to your already fabulous landscape. Gardens are never static. They grow, they change, they become sunnier or shadier and they are always created for the pleasure of the gardener who makes them. No garden is ever finished and there are no gardeners without dreams.
Ask our plant experts how to add a little sparkle to that long ignored spot in the garden. They can help you infuse your containers with vitality, flair and dazzling color. Our plant experts know their stuff and you can recognize them by their red baseball caps. They all share a passion for plants, extensive plant knowledge and a desire to send you home with the perfect plants to add a little bit of flair to your landscape.
We have plants for containers that will make you smile all Summer long. We have herbs that will spice up your dining. There are all kinds of trees and shrubs that will add some pizzazz to your landscape – Witch Hazels (Hamamelis) to add vibrant color and fragrance to the winter garden, Chinese dogwoods (Cornus kousa) with variegated leaves, showy flowers and plump berries to add three seasons of pizzazz, or the perfect hydrangea to add a lush, sensual feeling on hot Summer days, or the bright yellow berries of the Winterberry Holly (IlexWinter Gold). We have hundreds of perennials to choose from that will add color, texture, fragrance and vitality to your garden in every season.
For those of you who are impatient, like me, these plants are all good size specimens ready to make an impact in your garden this year. Our experts can help you with advice on how to care for and plant these wonderful additions to your landscape. Remember to look for those Red Hats!
Be sure to check out our On-line Plant List (click to view) to see all the great selections and cultural information for our plants. It is updated regularly. Make your own list of must have plants for 2014!
In future weeks we will be adding new plants, our plant buyers will be writing about their wonderful finds and we'll be giving you lots of tips on how to add a little or maybe a lot of pizzazz so that every day in the garden is exciting and magical.
2014 Plant Sale Volunteers Needed
Want to help out at the 2014 Plant Sale? Check out the Plant Sale Volunteer Sign-up Form.
==Sue Acheson
Log in to post comments

2843 reads