Another Today's Favorite Plant
Submitted by Webmaster on Thu, 03/28/2013 - 11:33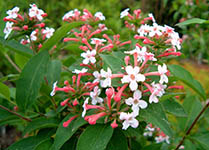 Abelia mosanensis
Every day I have a new favorite plant -- sometimes more than one! Today it is Abelia mosanensis.
Abelia is an old fashioned plant that has been left in the dust by all the new plants that are introduced each year. What's so great you ask? For starters it is very hardy and easy to grow -- hardy to Zone 4.
It has a graceful arching habit becoming five feet high and wide. Blooming in May and June, it is highly fragrant, comparable to the fragrance of hyacinths or Viburnum carlesii.
The reddish pink buds open to white flowers that are very attractive to hummingbirds. Glossy green leaves in Summer are followed by excellent orange and red fall foliage. It looks great in a mixed border in full sun or part shade. If you need any more incentive to have this great shrub in your garden, it is also on the list of deer resistant plants.
I hope you will give it a try.
==Sue Acheson, Plant Sale Co-Chair==
Log in to post comments

1558 reads