The Biggest and Best Ever - 2013
Submitted by Webmaster on Wed, 01/23/2013 - 15:46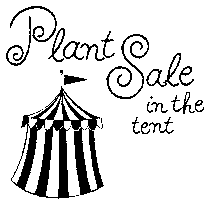 The Friends 18th Annual Plant Sale
Looking back at previous year's writeups on the Friends Annual Plant Sale, I am happy to see that each one has been described as "the best ever." And, do you know, I think each one was. Well, this year's is no exception and the Friends of the Frelinghuysen Arboretum are proud to announce that the 2013 Plant Sale will be the biggest and best yet. The dates are set (see the box at the right) and plans are well under way.
Over the next several weeks my co-chair, Ilona Ontscherenki, and I will be hard at work pouring over vendor catalogs, reviewing news in the growing community, discussing availability with the plantsmen and finally placing orders with the half-dozen or so vendors we think best meet our needs. We will update the on-line plant list as we go and expect the first entries there in the next week or two.
Volunteers Needed! Click Here for More Information and Signup Form
As in past years, we will post a number of articles about new and interesting material that will be on sale, so keep watch here for news and information in the coming weeks.

Sedum Zinger
Members 2013 Plant Dividends
As in past years, Member Plant Dividends will be distributed at the Friday evening Members-only Plant Sale (May 3rd) or at the main sale, Saturday and Sunday May 4 & 5), or at the Haggerty Education Center from Monday May 6th through Friday May 11th, from 9am - 4:30pm.
Click here to see this year's selections.
Not a member? Join now to be eligible for your plant divident by clicking here.
Plant Sale Sneak Preview - April 20
Mark your calendars for Saturday April 20th at 1:00p at the Arboretum's Haggerty Education Center for a sneak peak at some of the great plant selections found at the Friends 2013 Plant Sale. Sue Acheson and Ilona Ontscherenki, plant sale co-chairs, have selected their personal favorites, the hottest new plants as well as some plants that should reside in every garden no matter how grand or small.
See how adding Fabulous Foliage will enhance your container plantings and garden design. Learn about deer-resistant (not deer-proof) varieties too.
There will be a select number of plants available for pre-order that day. These plants will be available for pick-up during the plant sale. The plants selected for pre-order are highly desirable and deserve a place in your garden. Pre-ordering ensures that you won't be disappointed at the sale if your favorite sells out before you get to it. This has been so successful that we are making it a permanent part of the sale.
The Sneak Preview is free, but you must register in advance. Do so on-line by clicking here or call 973-326-7603. Pre-orders must be paid for at the time of ordering and we will accept cash, checks or credit cards.
== Sue Acheson, Plant Sale Co-Chair ==
Log in to post comments

1897 reads