Butterfly Bushes for Every Garden
Submitted by Webmaster on Thu, 03/28/2013 - 11:55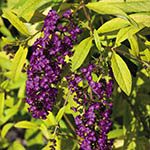 Buddleia Evil Ways
Many of us think a gardening bonus is to have a great garden plant that also attracts butterflies and none does it better than Buddleias. In the past few years there have been many wonderful new Buddleias appearing in garden centers. They are easy to grow but require a sunny spot. Some of the new Buddleias are sterile and produce no seeds so deadheading is not necessary and no unwanted seedlings are popping up in your garden or your neighbors. They are also on the deer resistant list. They top the list of "most attractive to butterflies." The following are some that will be available at this years sale.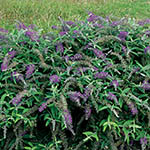 Buddleia x Lo and Behold Purple Haze
Buddleia Evil Ways -- I would buy this plant just so I could tell people its name. But if you want more, it is an exciting breakthrough in color with chartreuse foliage that acts as an excellent foil for the dark purple flowers. It grows to about four feet high.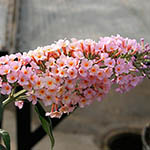 Buddleia x Flutterby Grand Peach Cobbler
Buddleia x Lo and Behold Purple Haze -- A new Buddleia that could be used in the perennial garden or as a sunny ground-cover grows only 3 feet high. It booms all Summer long on arching stems that look very graceful in the garden.The flowers are a bluish purple and fragrant.
Buddleia x Flutterby Grand Peach Cobbler -- Another breakthrough in color this buddleia bears salmon peach flowers.It is also sterile and produces no seeds. If the plant is deadheaded you can have fragrant blooms well into Fall. Growing to only five feet it fits into any garden or is stunning in a large container on a patio or deck.
I think every garden should have at least one butterfly bush but why limit yourself when there are so many wonderful ones to choose from. I guarantee they will bring your garden alive with their winged visitors and provide you with many hours of delightful watching.
== Sue Acheson, Plant Sale Co-Chair ==
Log in to post comments

3672 reads