Container Gardening, Some Good Ideas
Submitted by Webmaster on Sat, 02/11/2012 - 13:18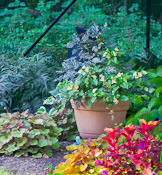 A June Container
Container gardening is so rewarding. The small scale, provided you don't go crazy with the number of containers, is manageable. And experimentation is easier since you don't have to dig holes. Transplanting is easier when you change your mind about a plant's position.
In a pot you can crowd your plants because it is an artificial environment. Putting plants close together looks great. You wouldn't do that in your garden but in a pot it works. Combine perennials, grasses and even small trees or shrubs along with the usual annuals in your containers. Except for the annuals, these plants can be planted in the garden in the Fall.
At a conference at Longwood gardens recently I got some new ideas to pass along about containers. The traditional formula of thriller (tall specimens in center), filler (medium height specimens in the middle) and spiller (specimens that hang over the pot edge) is a good formula, but also consider these ideas.
Include grasses. They are great transition or filler material and if you use ones cascading over the edge, it will continue growing until it reaches the ground, Quite an effect. Try Hakone grass for a shady container or Fiber Optic grass for one in more sun.
Break up large leaves. Tropicals with large leaves are very popular for containers but try planting feathery or fine leaved plants among or next to the large leaves. For example plant papyrus, lotus, or grasses next to Alocasia (elephant ears). When placed correctly the fine leaves of these plants breakup the extreme size of the Alocasia.
Use branches. The thriller feature in a pot is sometimes hard to find or the plant needs to grow before being thrilling. Branches can fill the bill. Use red or yellow twig dogwood or paint them blue, pink or a color to go with the plant material you have chosen. Cork screw willow has wonderful curling branches.
No bare soil. A pot looks more complete with no bare soil. When you are done planting cover the bare spots with clean white sand, gravel, moss or a small ground cover. A special groundcover is toe tickler grass (Eleocharis radicans). It looks like fiber optic grass only dwarf, one to two inches tall. Design elements such as colored glass balls or figurines can fill bare spots too. Anything that you like will add personality to your creations.
Experiment with color. Some of the most effective pots in the speaker's photos were grey and metallic plant combinations. It could take some searching for just the right plants but a trip to our plant sale will simplify that process. Plant experts can help you with selections if you know the sizes of your containers(measure the width of the opening and the height), where it is going(full sun, part shade or shade). Think of your containers as mini-gardens and let your imagination run wild.
Karen Curry
Plant Expert
Log in to post comments

2209 reads