-- A Cornus for Every Garden
Submitted by Webmaster on Mon, 04/07/2014 - 16:40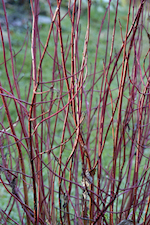 C. alba Ivory Halo
There is a Cornus or dogwood for every garden that will provide beautiful flowers, great bark, berries, good Fall color or all of the above.
Let's start with a Cornus alba Ivory Halo that adds brightness to any shady corner with its variegated leaves and winter interest with its bright red twigs. it is a rapid growing (to 6 ft.) deciduous shrub and its blue drupes are attractive to birds in the Fall. This is great shrub for year round interest.
C. officinalis Kintoki has small, brilliant yellow flowers in March on a small tree growing to 20 ft.and interesting mottled bark. Its vivid red fruit is a treat for birds. this plant is a PHS Gold Medal Winner which makes it especially suitable for growing in our area.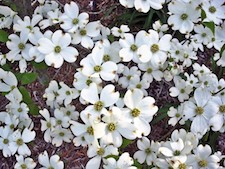 C. Jean's Appalachian Snow
C. Jean's Appalachian Snow is one of the best Florida dogwoods for our area. It has bright white, large flowers in April and May followed by attractive fruits and good red Fall color. It is mildew resistant. It flowers at a young age.
For a statement in your garden grow C. kousa Kristin Lipka, which is a beautiful weeping variety of the ever popular kousa dogwood with irregularly margined, variegated leaves, large red berries and Fall color that is red and pink. This would be beautiful tree to grow near a patio or an entry way where it could be appreciated year round and is small enough to fit any landscape at 9 ft. tall and 4 ft. wide. We will also feature the following kousa dogwoods at the sale, C. Miss Satomi, C. Wolf Eyes and C. Summer Gold.
A good choice for a wet spot would be C. sericea Cardinal, a shrubby dogwood growing 6 ft. tall in sun to part shade and attractive to birds and butterflies. The bright red twigs add Fall interest. This is a good choice for a naturalistic planting and is also effective as a screen.
Be sure to add at least one dogwood to your landscape this Spring. You will be richly rewarded for years to come.
==Sue Acheson
Log in to post comments

2637 reads