Crazy for Coleus
Submitted by Webmaster on Wed, 02/13/2013 - 08:45
Crazy for Coleus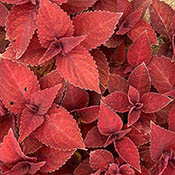 c. Big Red Judy
Just like the Victorians, I am crazy for coleus. Every year newer and more fanciful versions of these plants, once used in Victorian bedding out schemes, appear in the marketplace. What's so great about coleus you ask?
Their design potential is endless. They can be grown in the ground or in containers. They can be a specimen plant or used in fantastic combinations. They are trailing, mounding, small or large leaved. Their colors are vibrant or muted. In other words, coleus have something for everyone.
If that's not enough they are easy to grow annuals. Provide them with partial sun (too much sun will fade the colors and burn the leaves), consistent moisture and feed with a slow release fertilizer -- at planting time or a liquid fertilizer weekly. Pinch foliage to encourage bushiness. Keep flowers pinched off. The foliage is the thing.
Here are some great varieties for you to try:
Coleus Big Red Judy lives up to her name! This gorgeous beauty can stand on her own with gigantic brick red leaves that reach a height of 36 inches and spread 24 inches. Or combine in a large large container for a knock your socks off focal point. It looks especially good with Japanese Forest Grass (Hakonechloa aurea) and dark leafed dahlias like Dahlia Dracula.


c. Under the Sea Bonefish

Coleus Under the Sea Bonefish offers deeply dissected leaves in bright fuchsia with chartreuse edges.It is upright and mounding to about 18 in. This one is not for the timid but will certainly add that "WOW" factor to any planting. Try adding Ipomea Margherita as a trailer in a container and the dark colored, shiny leaf Pseuderanthemum Black Market for container magic that does not rely on flowers.


c. Under the Sea Lime Shrimp

The ever popular C. Sedona fits into almost any combination with its rusty leaves with purple undersides. It reminds me of a sunset in the desert. The colors get more intense as Summer turns to Fall. At 18-24 inches it is a great addition to a container sharing the spotlight with many colors combinations. Try something blue. I think you'll like it.
Another new Under the Sea coleus is Lime Shrimp. Hard to describe but its leaves have bright green centers outlined in deep purple. The leaves are heavily dissected giving it a unique appearance. I can see it paired with an ornamental grass to mimic the movement of water in the ocean.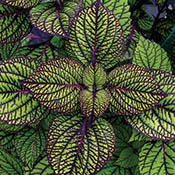 c. Fishnet Stockings
Sometimes coleus can be a supporting player instead of the star and the textured, dark green with almost black veins of C. Fishnet Stockings is one of these. It will add form and texture to any plant combination. It looks great in the border,too.
See our plant list for more varieties of coleus. There is AT LEAST ONE that deserves a home in your garden.
See you at the Plant Sale == Sue Acheson, Plant Sale Co-Chair ==
Log in to post comments

7241 reads