Everything Old Is New Again
Submitted by Webmaster on Tue, 04/08/2014 - 12:10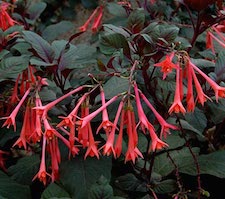 Fuschia Gartenmeister
You know what they say "Everything old is new again" so here are some great "old" annuals for containers and garden beds.
I always have at least one container that has Fuschia Gartenmeister in it. First of all it is an upright fuchsia growing to about 18 inches. It blooms with salmon colored flowers that appeal to hummingbirds, all Summer long. And finally, it plays well with others. It looks great with dark-leaved coleus or chartreuse Ipomea.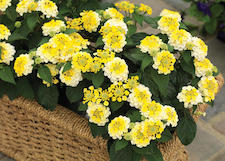 Lantana Lemon Zest
For sunny, hot situations you can't go wrong with Lantana, either as an edger in a bed or a long flowering component in a container. A particular favorite of mine is Lantana Lemon Zest, a magnet for butterflies, that blooms all Summer long in a hot, dry situation. The large flowers are bright yellow surrounded by primrose yellow. it is a Proven Winner selection and that means it will not disappoint.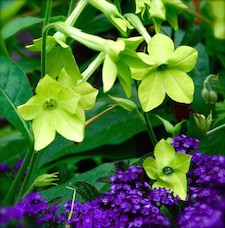 N. Lime Green
For me a Summer garden is not complete without some form of Nicotiana. Easy, versatile, long blooming and fragrant it is a great annual for the Cottage Garden. Try Lime Green which grows to 3 ft with blue salvias for a winning combination. This annual is also deer resistant.
The self-sowing Verbena bonariensis has been popping up in my garden for years and is always a other delight. It reminds me of the Spring blooming alliums in both shape and color. It adds that same globular shape to flower borders that alliums do. It adds an architectural note to the garden. Use it as a "see-through" plant in the garden. If you are too tidy to allow a little serendipity in your garden seedlings are easily removed.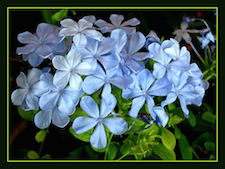 Blue Plumbago
Who doesn't want blue flowers in the garden? Blue Plumbago never fails to please with its pale blue flower heads and shrub-like growth. It is also unattractive to deer. Lovely in a container with Bombay white Scaveola, a 10 inch trailing plant, and Angelonia New Improved Blue with 2 ft. snap-dragon like flowers. I might even add a blue grey succulent to shake things up.
Check out our On-Line Plant List and see if you can't find a few "old favorites" of your own. If you start planning those combinations before plant sale day you'll be rewarded all Summer long.
==Sue Acheson
Log in to post comments

2334 reads