Our coach bus will whisk us off to the friendly islands (of the Philadelphia Flower Show, of course) on Thursday, March 8th.
We like to go a bit later in the day to miss the early morning crowds and stay a bit later. That way, you can take a nice break mid-day for a meal at the Reading Terminal Market or in nearby Chinatown.
Are you ready? Build a rain barrel with us on Tuesday, March 20 for catching those raindrops!
Blackburn Scholarship Tea
The Blackburn Scholarship Tea is fast approaching. It's a chance to wear something that says "Spring!" and support this very special scholarship for students studying horticulture at the County College of Morris. Chair, Nicky l'Hommedieu is planning a tempting assortment of delectables to follow what promises to be a fascinating talk by landscape architect Andrea Fillipone.
You can register online or by calling 973-326-7603.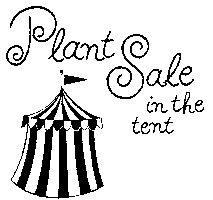 The Friends 17th Annual Plant Sale
Planning is well under way for the Friends 17th Annual Plant Sale. Click the heading to go to the Plant Sale Page for the latest scoop on our biggest, best Plant Sale Ever!
Sneak Preview - Sat Apr 14th, 10:00a
Members-only Preview Party - Fri May 4th 4-7pm
The Main Event - Sat & Sun May 5 & 6 10a - 2p
---
Remember that all our events can be found on our Events Page where, we are happy to say, you can register and pay on line -- just click on the "Add to Cart" buttons on our Events page and Membership page.
Retail Partners
Our Retail Partners list continues to grow! Look under "Membership" and then "Discount Offers" on our website (or just click on the headline above).
Remember to bring your membership card when shopping.