The spring edition of Arboretum Leaves will be mailed out next week, but we have TWO OUTSTANDING CLASSES in early April that you will want to be aware of. You may sign up now for these and all our Spring events on our website's Events page.
Planting a Pollinator Friendly Garden
On Sunday, April 1st start some pollinator attracting perennials with Kathleen Salisbury. Kathy is the former President of the NJ Native Plant Society. She will teach you how to get your babies through germination and safely into your garden to bloom for bees and butterflies a'plenty. So if you are interested in bringing home 4 each of these: Gayfeather; Blue False Indigo; Eastern Columbine; Canada Goldenrod; Flat Topped White Aster; New England Aster - register now as space is limited.
Backyard Habitat for Birds (& Butterflies & Dragonflies and More!)
On Sunday April 15th, you can learn how to make your garden, backyard, balcony or deck into a certified backyard wildlife habitat. Naturalist and author Pat Sutton travels north from her Cape May home to give us the scoop on successfully attracting the kind of wildlife you want. Think: bees, butterflies, dragonflies, songbirds! Why not get your children, grandchildren or even a neighbor's children involved. It's fun to build a greener world!
Garden Tip
If you have container plants wintering over in your garage or basement, now is the time to check on them. Many have already started sending out green shoots.
The soil will be bone dry, so add some room temperature water. Not enough to drench the container, just enough to re-hydrate the soil a bit. Another few weeks and you can think about rolling them out to get some sun!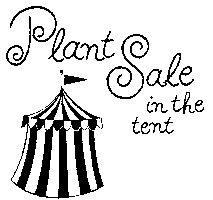 The Friends 17th Annual Plant Sale
Speaking of Spring, preparations are well under way for the Friends 17th Annual Plant Sale. Click the heading to go to the Plant Sale Page for the latest scoop on our biggest, best Plant Sale Ever! While there, be sure to look at the on-line plant list which already has over 400 different varieties that you can drool over getting ready for the Sale.
Sneak Preview - Sat Apr 14th, 10:00a
Members-only Preview Party - Fri May 4th 4-7pm
The Main Event - Sat & Sun May 5 & 6 10a - 2p
---
Remember that all our events can be found on our Events Page where, we are happy to say, you can register and pay on line -- just click on the "Add to Cart" buttons on our Events page and Membership page.
Retail Partners
Our Retail Partners list continues to grow! Look under "Membership" and then "Discount Offers" on our website (or just click on the headline above).
Remember to bring your membership card when shopping.