Your webmaster took the past week off for a vacation in Jamaica, returning to amazingly nice weather here in New Jersey. Let's all welcome Spring with a few of our many activities in the coming weeks. You may sign up now for these and all our events on our website's Events page.
Benjamin Blackburn Scholarship Tea
The countdown is on for the Blackburn Scholarship Tea. Please support this scholarship with your attendance or a donation. For the past several years, we have been "keeping it local" and working with the Department of Landscape Technology at Count College of Morris to award these scholarships to deserving students here in Morris County. There is still time to register for the Wednesday, March 28 event featuring keynote speaker and landscape architect Andrea Fillipone.
Early April brings three wonderful programs.
Planting a Pollinator Friendly Garden
"Planting for Pollinators" on April 1 will send you home with a flat filled with perennials that the bees and butterflies will thank you for.
Backyard Habitat for Birds (& Butterflies & Dragonflies and More!)
"Backyard Habitats" on Sunday, April 15 will send you home inspired to create your own garden paradise for the same creatures. Don't miss this talk by Pat Sutton, who worked at the Cape May Audubon Center for many years. Now retired, Pat lectures widely on this subject and will motivate and inspire you.
Plant Sale Sneak Preview
On Saturday, April 14, bring a pad and pencil to "Must Have Plants for Every Garden." Plant Sale Chair, Sue Acheson, presents image after amazing image of the wonderful plants that await us at this year's sale. Sue's cultural knowledge and planting suggestions are so valuable. Plus, you'll be able to pre-order some of them. Check the Plant Sale list now to see what Sue has in store for us!
Finally, we've attached some reading material from the New York Times as well. http://www.nytimes.com/2012/02/27/nyregion/amid-winter-blooms-wondering-what-that-means-for-spring.html?_r=1.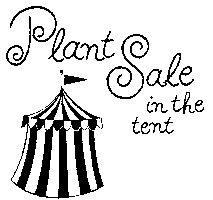 The Friends 17th Annual Plant Sale
Speaking of Spring, preparations are well under way for the Friends 17th Annual Plant Sale. Click the heading to go to the Plant Sale Page for the latest scoop on our biggest, best Plant Sale Ever! While there, be sure to look at the on-line plant list which already has over 400 different varieties that you can drool over getting ready for the Sale.
Sneak Preview - Sat Apr 14th, 10:00a
Members-only Preview Party - Fri May 4th 4-7pm
The Main Event - Sat & Sun May 5 & 6 10a - 2p
---
Remember that all our events can be found on our Events Page where, we are happy to say, you can register and pay on line -- just click on the "Add to Cart" buttons on our Events page and Membership page.
Retail Partners
Our Retail Partners list continues to grow! Look under "Membership" and then "Discount Offers" on our website (or just click on the headline above).
Remember to bring your membership card when shopping.