There's no turning back now: Spring is on the way — get started right with an eco-friendly approach!
Container Gardening Demo
On Sunday, March 25 the Watnong Chapter of the North American Rock Garden Society is offering a free program. Ken Selody of Atlock Farms is giving a demonstration on unusual plants for containers. No registration is required, just prepare to be amazed by Ken's artistry and come along at 10am.
Planting a Pollinator Friendly Garden
Some pollinator-friendly starts can be yours on Sunday, April 1 at Planting a Pollinator Friendly Garden. Liatris, aquilegia, solidago, baptisia and more all await you. Seating is limited for this class, so register now if you are interested in learning about growing these natives.
Eco-Friendly Lawn Care for Homeowners
On the evening of Thursday, April 12 shut the TV off and come to Eco-Friendly Lawn Care with expert Mark Zukovich. Whether you cut your own or not, there are things to know about proper and conscientious lawn care. You owe it to yourself, your lawn, your family and your planet to be in sync with these practices.
Backyard Habitat for Birds (& Butterflies & Dragonflies and More!)
Sunday, April 15 brings a breeze from Cape May our way with naturalist Pat Sutton's talk on Backyard Haritat for Butterflies & Dragonflies. Register for yourself and bring a child (ages 8-15) for free. Turning your garden into a Certified backyard Habitat is a family affair — Pat shares all her secrets and common sense ideas.
Plant Sale Sneak Preview
Keep checking our Plant List as it continues to grow and make sure you have April 14 marked on your calendar for Sue Acheson's Free talk on Must Have Plants for Every Garden.
Tip of the week:
Getting ready to plant? Brew up some rooting rich willow water. Willows contain a natural rooting hormone. Cut willow stems no thicker than a pencil, into 2" long pieces. Get about a cupful. Boil 4 cups of water. Pour the water over the willow stems and steep overnight. In the morning, remove the stems and use the water as a root dip for your new plantings.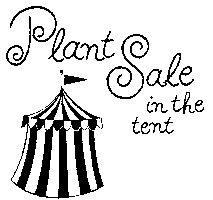 The Friends 17th Annual Plant Sale
Speaking of Spring, preparations are well under way for the Friends 17th Annual Plant Sale. Click the heading to go to the Plant Sale Page for the latest scoop on our biggest, best Plant Sale Ever! While there, be sure to look at the on-line plant list which already has over 400 different varieties that you can drool over getting ready for the Sale.
Sneak Preview - Sat Apr 14th, 10:00a
Members-only Preview Party - Fri May 4th 4-7pm
The Main Event - Sat & Sun May 5 & 6 10a - 2p
---
Remember that all our events can be found on our Events Page where, we are happy to say, you can register and pay on line -- just click on the "Add to Cart" buttons on our Events page and Membership page.
Retail Partners
Our Retail Partners list continues to grow! Look under "Membership" and then "Discount Offers" on our website (or just click on the headline above).
Remember to bring your membership card when shopping.