There's no turning back now: Spring is here — get started right with an eco-friendly approach!
Planting a Pollinator Friendly Garden
The bees are calling! And it's last call to learn about native plants for our NJ pollinators at "Planting for Pollinators" on Saturday CORRECTION: Sunday, April 1st.
Eco-Friendly Lawn Care for Homeowners
Have you noticed those weeds and clumps of onion grass emerging from your lawn?
Learn (on Thursday, April 12th) what to do and when with Marc Zukovich, adjunct professor at County College of Morris, at "Eco-friendly Lawn Care for Homeowners." What a nice gift this class would make for any new homeowners you know.
Backyard Habitat for Birds (& Butterflies & Dragonflies and More!)
Learn what simple steps you can take to make your garden a backyard habitat. Pat Sutton, former Cape May Audubon staffer heads to the Frelinghuysen on Sunday, April 15th to share her tips and experiences at "Backyard Habitat for Birds and Butterflies." Register for yourself and bring a child (up to age 16) for free - what a neat family project!
Plant Sale Sneak Preview
Your plant sale invitation will be in the mail shortly! Have you checked the plant list on our Plant Sale page yet? Plant Sale Chair, Sue Acheson's free talk on Saturday, April 14th on Must Have Plants for Every Garden will get you ready for some retail plant therapy!
Pruning Workshop
And while we are talking about "cutting" take a walk with plantsman Scott Scarafile on Monday, April 23rd. Scott cares for many of the trees and shrubs here. Finally: get an answer to that question: do I prune before of after bloom?
Link of the week:
And here is a link to a beautiful time lapse video of flowers bursting into bloom. The way things have been in the gardens this week - it seems quite appropriate as everything is opening at once!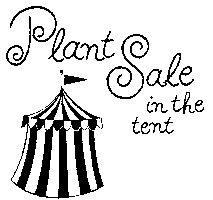 The Friends 17th Annual Plant Sale
Speaking of Spring, preparations are well under way for the Friends 17th Annual Plant Sale. Click the heading to go to the Plant Sale Page for the latest scoop on our biggest, best Plant Sale Ever! While there, be sure to look at the on-line plant list which already has over 400 different varieties that you can drool over getting ready for the Sale.
Sneak Preview - Sat Apr 14th, 10:00a
Members-only Preview Party - Fri May 4th 4-7pm
The Main Event - Sat & Sun May 5 & 6 10a - 2p
---
Remember that all our events can be found on our Events Page where, we are happy to say, you can register and pay on line -- just click on the "Add to Cart" buttons on our Events page and Membership page.
Retail Partners
Our Retail Partners list continues to grow! Look under "Membership" and then "Discount Offers" on our website (or just click on the headline above).
Remember to bring your membership card when shopping.