As April Approaches, please make sure to mark these dates in your calendar:
Eco-Friendly Lawn Care for Homeowners
Have you noticed those weeds and clumps of onion grass emerging from your lawn?
Learn (on Thursday, April 12th) what to do and when with Marc Zukovich, adjunct professor at County College of Morris, at "Eco-friendly Lawn Care for Homeowners." What a nice gift this class would make for any new homeowners you know.
Must Have Plants for Every Garden
Saturday, April 14th. Free, but you must register to attend this sneak peak at some of the great plant selections on order for the Friends 2012 Plant Sale.
Backyard Habitat for Birds (& Butterflies & Dragonflies and More!)
Sunday, April 15th, and remember, you can bring a kid for free!
It's almost April 1, do you know where your Plant Sale List is?
It's here! arboretumfriends.org/node/29
Have you read about this year's Plant Dividends?
The write up is here —
arboretumfriends.org/node/601
.
Gallery Show
The show in our Atrium Gallery this April is by award winning artist Joan Lok. Next time you are here, plan to spend some time enjoying her distinctive work. Joan is teaching a class on April 21. If you have an artistic nature, treat yourself to an afternoon in her rigorous but comforting teaching presence. Your aesthetic self will benefit from the mere proximity to her.
Link of the week:
For some up to date tree trips visit the website of our Retail Partner, Bartlett Tree Experts.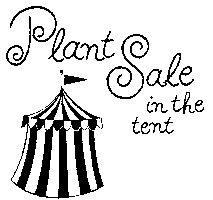 The Friends 17th Annual Plant Sale
Speaking of Spring, preparations are well under way for the Friends 17th Annual Plant Sale. Click the heading to go to the Plant Sale Page for the latest scoop on our biggest, best Plant Sale Ever! While there, be sure to look at the on-line plant list which already has over 400 different varieties that you can drool over getting ready for the Sale.
Sneak Preview - Sat Apr 14th, 10:00a
Members-only Preview Party - Fri May 4th 4-7pm
The Main Event - Sat & Sun May 5 & 6 10a - 2p
---
Remember that all our events can be found on our Events Page where, we are happy to say, you can register and pay on line -- just click on the "Add to Cart" buttons on our Events page and Membership page.
Retail Partners
Our Retail Partners list continues to grow! Look under "Membership" and then "Discount Offers" on our website (or just click on the headline above).
Remember to bring your membership card when shopping.