Wow, what a beautiful start to April! We have great things going on this month, so take a look at these highlights:
Eco-Friendly Lawn Care for Homeowners
Last call for Eco-Friendly Lawn Care for Homeowners scheduled for Thursday, April 12 at 7pm. Have an early dinner and come along, or bring a sandwich with you and learn how to save time, money and the environment.
Must Have Plants for Every Garden
Excitement gathers as we approach the Plant Sale! Check out the On-line Plant List and then plan to come to the FREE talk on April 14 at 10am. You can ask Plant Sale Chair, Sue Acheson, about the plants on that very long list, hear her talk about her favorites and even pre-order from a list of 15 Featured Plants available at the talk.
Backyard Habitat for Birds (& Butterflies & Dragonflies and More!)
Sunday, April 15, it's all about the birds and the bees! No, not that kind of birds and bees, the Backyard Habitat kind. So, it's safe to bring your children along and make this a family project! Register now for "Backyard Habitats" and children are free!
Gallery Show
Artist Joan Lok stunning exhibit has just opened in our Atrium Gallery. We invite you to enjoy these lovely works in oil and watercolor. Joan will be teaching a very special class in watercolors on April 21. What a lovely gift this would make for Mother's Day or for any artist celebrating a spring birthday!
VOLUNTEERS NEEDED!
Our Volunteer Coordinator, Marge Hulstrunk, writes that she would love to hear from you if you are willing to help out at this year's Plant Sale. As it expands, we need more volunteers to serve all our visitors. As a long-time volunteer myself, I cannot say strongly enough what a wonderful job being a volunteer is. We would love to add you to our group.
For more information, visit the Volunteer Page on our website or call Marge at 973-631-5049 at your earliest convenience.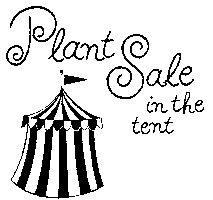 The Friends 17th Annual Plant Sale
Speaking of Spring, preparations are well under way for the Friends 17th Annual Plant Sale. Click the heading to go to the Plant Sale Page for the latest scoop on our biggest, best Plant Sale Ever! While there, be sure to look at the on-line plant list which already has over 400 different varieties that you can drool over getting ready for the Sale.
Sneak Preview - Sat Apr 14th, 10:00a
Members-only Preview Party - Fri May 4th 4-7pm
The Main Event - Sat & Sun May 5 & 6 10a - 2p
---
Remember that all our events can be found on our Events Page where, we are happy to say, you can register and pay on line -- just click on the "Add to Cart" buttons on our Events page and Membership page.
Retail Partners
Our Retail Partners list continues to grow! Look under "Membership" and then "Discount Offers" on our website (or just click on the headline above).
Remember to bring your membership card when shopping.