No April showers in sight at the moment, so come to the Frelinghuysen Arboretum for some of our wonderful programs:
Eco-Friendly Lawn Care for Homeowners
I love my landscaper, but when he suggested his usual round of chemicals for my lawn this spring, I said, "How about you come to a class, Eco-Friendly Lawn Care on Thursday, April 12." How about the guys who tend your lawn? Do they need a refresher course in the new laws and the new products out there for keeping your lawn and the planet GREEN? Register now!
Must Have Plants for Every Garden
What's new and exciting in the plant world? Come to the FREE talk this Saturday at 10 to hear Plant Sale Chair Sue Acheson speak on "Must Have Plants for Every Garden." and even pre-order from a list of 15 Featured Plants available at the talk.
Spring Pruning Workshop
BEFORE you get out your clippers, take a walk with Plantsman Scott Scarafile. His "Pruning Workshop" on Monday, April 23 at 12:30pm, will help you get your tools in shape and give you a chance to make some cuts here at The Frelinghuysen.
Register for any of these online at our website or by calling 973-326-7603.
VOLUNTEERS NEEDED!
Our Volunteer Coordinator, Marge Hulstrunk, writes that she would love to hear from you if you are willing to help out at this year's Plant Sale. As it expands, we need more volunteers to serve all our visitors. As a long-time volunteer myself, I cannot say strongly enough what a wonderful job being a volunteer is. We would love to add you to our group.
For more information, visit the Volunteer Page on our website or call Marge at 973-631-5049 at your earliest convenience.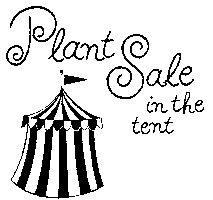 The Friends 17th Annual Plant Sale
Speaking of Spring, preparations are well under way for the Friends 17th Annual Plant Sale. Click the heading to go to the Plant Sale Page for the latest scoop on our biggest, best Plant Sale Ever! While there, be sure to look at the on-line plant list which already has over 400 different varieties that you can drool over getting ready for the Sale.
Sneak Preview - Sat Apr 14th, 10:00a
Members-only Preview Party - Fri May 4th 4-7pm
The Main Event - Sat & Sun May 5 & 6 10a - 2p
---
Remember that all our events can be found on our Events Page where, we are happy to say, you can register and pay on line -- just click on the "Add to Cart" buttons on our Events page and Membership page.
Retail Partners
Our Retail Partners list continues to grow! Look under "Membership" and then "Discount Offers" on our website (or just click on the headline above).
Remember to bring your membership card when shopping.