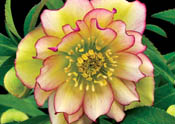 Hellebore Amber Gem
17th Annual Plant Sale This Weekend
The first plants for the 17th Annual Plant Sale were unloaded today. They look great — healthy and filled with blooms or blooms to be. Plan your weekend accordingly. There is still some time to register for Friday night's Members Only Preview Party. The $20 admission fee will provide you with a lovely boxed supper including your choice of gourmet sandwich, dessert and wine, beer or soda.
Remember to pick up your Plant Dividend on Friday night, or Saturday or Sunday at the Plant Sale.
You can also get them during the following Monday-Friday at the Haggerty Education Center (while supplies last)
The Edible/Ornamental Garden
Everyone will be planting their summer vegetables soon. Tomatoes, peppers and eggplant can make lovely additions to your perennial beds. Astonished at this unorthodox suggestion?
Come to Edible/Ornamental Garden on Saturday, June 16 and prepare for more untraditional advice on mixing it up in your summer garden as award-winning garden writer Karen Bussolini breaks it all down for us.
Birds of Bamboo Brook
We want to let you know about a wonderful and free program at Bamboo Brook, presented by the New Jersey Conservation Foundation who lease the offices there and know the property quite well. This would be suitable for children ages 8+ and adults who are sure on their feet. Read more at NJCF's site.
Please do wear sturdy, closed shoes, and long pants.
What's in Bloom At the Arboretum
The list was updated today. Check it out (What's in Bloom) and be sure to use it as a guide when you are next strolling the grounds.
Register for any of these online at our website or by calling 973-326-7603.
VOLUNTEERS NEEDED!
Our Volunteer Coordinator, Marge Hulstrunk, writes that she would love to hear from you if you are willing to help out at this year's Plant Sale. As it expands, we need more volunteers to serve all our visitors. As a long-time volunteer myself, I cannot say strongly enough what a wonderful job being a volunteer is. We would love to add you to our group.
For more information, visit the Volunteer Page on our website or call Marge at 973-631-5049 at your earliest convenience.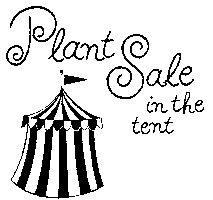 The Friends 17th Annual Plant Sale
Speaking of Spring, preparations are well under way for the Friends 17th Annual Plant Sale. Click the heading to go to the Plant Sale Page for the latest scoop on our biggest, best Plant Sale Ever! While there, be sure to look at the on-line plant list which already has over 400 different varieties that you can drool over getting ready for the Sale.
Sneak Preview - Sat Apr 14th, 10:00a
Members-only Preview Party - Fri May 4th 4-7pm
The Main Event - Sat & Sun May 5 & 6 10a - 2p
---
Remember that all our events can be found on our Events Page where, we are happy to say, you can register and pay on line -- just click on the "Add to Cart" buttons on our Events page and Membership page.
Retail Partners
Our Retail Partners list continues to grow! Look under "Membership" and then "Discount Offers" on our website (or just click on the headline above).
Remember to bring your membership card when shopping.