Valentine's Wreath Making Class
What did you miss at last week's Valentine's Wreath Making Class?
Here are a couple of images of our most meticulous Marge's set up for the program. Please note the two chocolate kisses for each guest! Who cares more about their Members?
Click on either image to see them enlarged in our photo gallery.
Plant Bloopers
The Academy Awards are coming up and if you are a movie buff you will be interested in this article about how many plant bloopers there are in movies! Fun reading for plant geeks and cinemaphiles alike: www.ou.edu/cas/botany-micro/ben/ben342.html.
The Community Garden Conference is almost here (Saturday, March 2nd). Close to 100 people are registered for the upcoming Community Garden Conference. Will you be there?
Thanks in advance to our generous sponsors Sodexo, for providing a fresh, healthy lunch for conference attendees.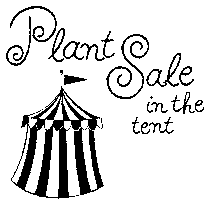 2013 Plant Sale
The Friends 18th Annual Plant Sale is coming sooner than you think! Put a big star on your calendar for the weekend of Friday May 3rd through Sunday May 5th for the Biggest and Best Plant Sale Ever.
Read all about it, keep up with this year's great plants and learn about the members-only plant dividents on the Plant Sale Page, updated regularly.
Remember that all our events can be found on our Events Page where, we are happy to say, you can register and pay on line -- just click on the "Add to Cart" buttons on our Events page and Membership page. Alternatively, you may register by calling 973-326-7603.
Our Retail Partners list continues to grow! Look under "Membership" and then "Discount Offers" on our website (or just click on the headline above).
Remember to bring your membership card when shopping.