Last call to register for Saturday's Community Garden Conference. Outstanding speakers and the buzz that's created when over 100 committed gardeners gather. Register here and make sure to use the "notes" section to tell us your session choices and your lunch choice. The select group of exhibitors in our gallery include the Master Gardeners who have materials for soil tests for sale (bring a check or cash) and perfumer Tara Krause and the 100 mile perfume project.
Coming Saturday & Sunday Programs
Hummingbirds 101
Sunday, March 10 Hummingbirds 101 - learn from expert Pat Sutton, whose Cape May garden is a favorite hummingbird stop. Bring a child for free. Then head right to a retail partner and use your membership card to purchase a hummingbird feeder at a retail partner discount. Register on-line by clicking the title.
10th Annual Matilda's Tea Party
This year's Matilda's Tea on Saturday, March 16th features dance. If you are missing Downtown Abbey, learn the dances of the Edwardian Era with your favorite young lady. Simply Splendid! On-line registration is quick and easy.
Paint It Black
Sunday, March 17 Paint it Black - want to add some instant drama to your containers or beds (garden beds, that is)? Add a black plant. Register here!
Traditional Irish Food
Also Sunday, March 17th - Irish Foods. News flash: Chef Cynthia gave us all a taste of her Coffee Meringue Cookies with Irish Whisky Cream. OMG! Register here.
Spring Programs
The new Arboretum Leaves goes in the mail any day now, but get a sneak peak at all the new programs on our Events Page.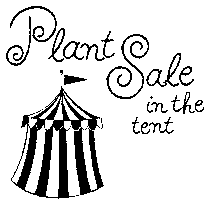 2013 Plant Sale
The Friends 18th Annual Plant Sale is coming sooner than you think! Put a big star on your calendar for the weekend of Friday May 3rd through Sunday May 5th for the Biggest and Best Plant Sale Ever.
Read all about it, keep up with this year's great plants and learn about the members-only plant dividents on the Plant Sale Page, updated regularly.
All our events can be found on our Events Page where, we are happy to say, you can register and pay on line -- just click on the "Add to Cart" buttons on our Events page and Membership page. Alternatively, you may register by calling 973-326-7603.
Our Retail Partners list continues to grow! Look under "Membership" and then "Retail Partners" on our website (or just click here).
Remember to bring your membership card when shopping.