Tomorrow is the Vernal Equinox, snow or no snow!
Here are some suggestions to get you in the mood:
Benjamin Blackburn Scholarship Tea
The Benjamin Blackburn tea on Wednesday, April 3 features chefs from the Blue Ribbon Cafe in NYC with some fresh food suggestions and samples. Register on-line by clicking on the title.
The Benjamin Blackburn Scholarship is awarded to a student in the Landscape Technology program at County College of Morris. Wednesday, Apr. 3rd.
Willowwood: From the Manager's Perspective
Tour Willowwood on Saturday, April 13 with a walk around this splendid garden with Manager of Horticulture, John Morse, who works and lives there. Register by clicking here.
Capturing the Intent of the Gardener
Learn photography with award winning photographer Rich Pomerantz on Saturday April 20. Rich teaches classes at many botanic gardens here on the East Coast. We are very fortunate to be able to offer this class. If you are someone who loves taking garden photographs, your work will be improved. If you have just begun using a digital camera outdoors, this class will teach you lessons for life.
See the Frelinghuysen through new eyes (or lenses) by signing up now for this class.
Butterflies of Turkey
If this New York Times article on Monarch Butterflies (click to read) interests you, then perhaps you would like to attend the Tuesday April 9 meeting of the North American Butterfly Association at 7pm.
No registration is needed, just come along.
African Violet Show & Sale
The African Violet Club of Morris County is hosting its 18th Annual Show and Sale of the weekend of April 6 and 7. Their exhibits are always clever and charming. Please stop by and support their efforts!
NEWS FLASH: the 100 Mile Perfume is coming to The Frelinghuysen Arboretum
Read all about this fascinating program and project by clicking on the image at right.
If you are interested in participating in this project and helping to grow plants that will be turned into perfume, please contact Tara Krause, the Organic Perfumer.
Miss Matilda's Tea Pictures
If you missed Miss Matilda's Tea, but are curious about the "dancing" you can see lots of nice photographs at the Daily Records photo gallery, running right now. We also have some in our photo gallery, courtesy of Jennifer Basile (click on image at left to view)
Community Gardeners
The March 2nd conference was a great success. We have posted slides from several of the speakers as well as pictures from the conference. Check it out on our Community Garden Conference page.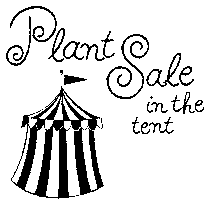 2013 Plant Sale
The Friends 18th Annual Plant Sale is only 45 days away! Put a big star on your calendar for the weekend of Friday May 3rd through Sunday May 5th for the Biggest and Best Plant Sale Ever. Read all about it by clicking on the logo at right.
Don't miss the Plant Sale Preview Lecture on Saturday, April 20th at 1:00pm. You will hear about the featured plants at this year's sale and be able to pre-order a select group of them. Register here for this free event.
Did you know we have a list of all the plants ordered for the sale on line? Check it out here: http://www.arboretumfriends.org/plantlist.
All our events can be found on our Events Page where, we are happy to say, you can register and pay on line -- just click on the "Add to Cart" buttons on our Events page and Membership page. Alternatively, you may register by calling 973-326-7603.
As a member of The Friends of The Frelinghuysen Arboretum you can enjoy discounts at our Retail Partners. Please show your Friends' membership card at time of purchase.