Easing Brain Fatigue
As if we needed proof, here's a good article that confirms what we all know: click here for NY Times article. A walk in the park can chase those cobwebs and blues away. This is a great weekend to enjoy The Frelinghuysen Arboretum. The earth smells great.
The sounds of birds returning and courting are everywhere. Buds are swelling. In Japan, people observe 10 stages of bloom in the cherry blossom. Three of them are before the flower even opens.
And while you are thinking about that, here are some upcoming classes to think about:
Capturing the Intent of the Gardener
Wouldn't it be nice to take great garden photos. Yes of big public gardens, but also of your own garden. Now is your chance to learn photography from a plant geek. Sign up on-line by clicking here. Saturday April 20th.
100 Mile Perfume Project
Organic Perfumer, Tara Krause, is talking about her work and her 100 mile perfume project. She is looking for a few good gardeners..... come get free seeds on April 10 - register by calling Tara directly (click on the image at left).
Grow, Cook, Eat: Roots and Radish
The humble radish is elevated in Grow, Cook, Eat: Roots and Radish on Wednesday April 17. Click the headline for more information and to register on-line.
Benjamin Blackburn Scholarship Tea
There is still time to register for the Benjamin Blackburn Scholarship Tea (next Wednesday April 3rd). Register by clicking here.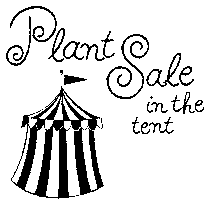 2013 Plant Sale
The Friends 18th Annual Plant Sale is only 45 days away! Put a big star on your calendar for the weekend of Friday May 3rd through Sunday May 5th for the Biggest and Best Plant Sale Ever. Read all about it by clicking on the logo at right where you can also see several new articles added this week.
Don't miss the Plant Sale Preview Lecture on Saturday, April 20th at 1:00pm. You will hear about the featured plants at this year's sale and be able to pre-order a select group of them. Register here for this free event.
Did you know we have a list of all the plants ordered for the sale on line? Check it out here: http://www.arboretumfriends.org/plantlist.
All our events can be found on our Events Page where, we are happy to say, you can register and pay on line -- just click on the "Add to Cart" buttons on our Events page and Membership page. Alternatively, you may register by calling 973-326-7603.
As a member of The Friends of The Frelinghuysen Arboretum you can enjoy discounts at our Retail Partners. Please show your Friends' membership card at time of purchase.