Oops! Left Out a Weekend Event
Tri-State Hosta Society Annual Sale
Sorry to our friends at the Tri-State Hosta Society for neglecting to mention their Annual Sale this Sunday, April 13th, at the Arboretum. Click here for more information.
Are you ready for the Plant Sale?
Everything is popping open! Are you ready for the Plant Sale? Please sharpen your pencils and check out the ever-growing On-Line Plant List.
There is still time to register for the Preview Lecture on April 20 (click here).
More information, below.
Spectacular Spinach
Popeye himself would be pleased with this weekend's cooking class: Spectacular Spinach. There are still a few spaces open so say "I yam what I yam" and register on-line by clicking on the image. Sunday, April 14th.
Plant A Rain Garden
Plant A Rain Garden on Friday, April 26 brings rain garden expert, Dr. Chris Obropta from Rutgers University here to The Frelinghuysen Arboretum to answer all of your questions about this important environmental garden feature. Register on-line by clicking the heading.
Lifting and Dividing Perennials
Are your perennials coming up? It may be time to divide them for better bloom and plant vigor. It's also a nice way to share plants with gardening friends. Learn the how to of Lifting and Dividing Perennials on May 13 by clicking here.
Litchfield Lark
Our overnight bus trip to Litchfield Connecticut's most beautiful gardens is filling up. If you are considering joining us, click here to register on-line.
If you need a bit of convincing, just go to the websites of each garden and look at the images!
100 mile Perfume Project
Follow your nose to the Haggerty Education Center this Saturday (April 13) at 10am to learn about the 100 mile Perfume Project with Organic Perfumer, Tara Krause.
Read more by clicking on the image at right.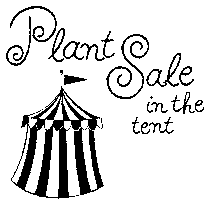 2013 Plant Sale
The Friends 18th Annual Plant Sale is only 23 days away! Put big red stars on your calendar for the weekend of Friday May 3rd through Sunday May 5th for the Biggest and Best Plant Sale Ever. Read all about it by clicking on the logo at right where you can also see several new articles added this week, including yet another of Sue's favorite plants.
Don't miss the Plant Sale Preview Lecture on Saturday, April 20th at 1:00pm. You will hear about the featured plants at this year's sale and be able to pre-order a select group of them. Register here for this free event.
Did you know we have a list of all the plants ordered for the sale on line? Check it out here: http://www.arboretumfriends.org/plantlist.
All our events can be found on our Events Page where, we are happy to say, you can register and pay on line -- just click on the "Add to Cart" buttons on our Events page and Membership page. Alternatively, you may register by calling 973-326-7603.
As a member of The Friends of The Frelinghuysen Arboretum you can enjoy discounts at our Retail Partners. Please show your Friends' membership card at time of purchase.