Spring at the Arboretum
Members Plant Sale Dividends
Some of the Members Plant Sale Dividends have arrived and they look great!
When are you picking yours up? On Friday night, over the weekend, or during the following week? Please remember that supplies are limited, so come early to insure that you get the plant you'd like.
Read all about the Plant Dividends on our Plant Sale Page.
Litchfield Lark
The bus is filled for our overnight trip to Litchfield, CT, but if you are interested still in going, add your name to our waiting list. Since it is almost two months until the tour, places may open up. Call the office at 973-326-7603.
Read all about the marvelous gardens we'll be visiting on our Events page.
Lifting and Dividing Perennials
This is the time of year to divide many perennials. If you want to re-invigorate your garden beds and re-populate them as well, learn how to Lift and Divide Perennials with Plantsman Scott Scarafile. Scott cares for many of The Frelinghuysen's perennial beds, including the lovely Lindner Perennial Garden at the rear of the Haggerty Education Center.
Bring you own gloves and get ready to get dirty!
Contain Your Enthusiasm
We are gearing up for the Plant Sale and the launch of "Contain Your Enthusiasm," our container design contest. You'll get a nice big free bag of LI Compost's Hampton Estate Professional Potting Mix when you enter the contest.
Click on the heading for more information and an application form.
Flower Power
Here's an interesting article from Science News for Kids about the fascinating and complex relationship between bees and flowers that you can enjoy with your children: http://www.sciencenewsforkids.org/2013/03/electric-field-around-flowers-may-help-bees-find-nutritious-blooms/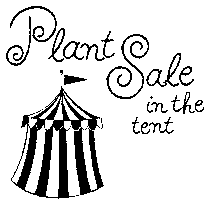 What's in Bloom At the Arboretum
Coming for a walk? Check out what's in bloom right here with our on-line What's in Bloom list, maintained by volunteer Phil Dahlen.
2013 Plant Sale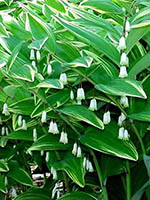 Polygonatum Variegatum
The Friends 18th Annual Plant Sale is only a little over a week away! Put big red stars on your calendar for the weekend of Friday May 3rd through Sunday May 5th for the Biggest and Best Plant Sale Ever. Read all about it by clicking on the logo at right where you can also see loads of articles, including many of Sue's favorite plants.
By the way, the polygonatum at left is one of Sue's favorites!
Did you know we have a list of all the plants ordered for the sale on line? Check it out here: http://www.arboretumfriends.org/plantlist.
Retail Partners
As a member of The Friends of The Frelinghuysen Arboretum you can enjoy discounts at our Retail Partners. Please show your Friends' membership card at time of purchase.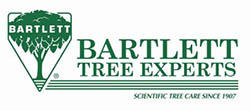 Featured Partner
Our currently featured Retail Partner is Bartlett Tree Experts which is pleased to offer members of The Friends of The Frelinghuysen Arboretum a free 1 time consultation and 10% off any initial order. Offer expires 9/30/13.
Click on their logo on the right for information on tree inspections and treatments following Sandy.
Go to our Retail Partners Web Page for information about all our Retail Partners.
All our events can be found on our Events Page where, we are happy to say, you can register and pay on line -- just click on the "Add to Cart" buttons on our Events page and Membership page. Alternatively, you may register by calling 973-326-7603.