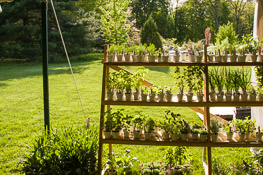 Plant Sale This Weekend!
Full steam ahead for the Plant Sale with a great weather forecast for Friday, Saturday and Sunday!
Plants are arriving in top shape and there is something new and exciting on every shelf!
If you haven't registered for Friday nights Members Only Sale, please do so now by clicking here.
If you are not a member, sign up on-line here. This is the perfect time of year to join: the Members Only Plant Sale and the Annual Meeting are both Member benefits.
Plant Sale Dividends
We've a plant substitution in our plant dividends. Sedum Razzle Berry was not ready to be shipped but a lovely nepeta has taken it's place: Calamintha Nepeta 'White Cloud.'
Pick yours up either at the Plant Sale or at the Haggerty Center during the following week. Please remember that supplies are limited, so come early to insure that you get the plant you'd like.
Read all about the Plant Dividends on our Plant Sale Page.
Lifting and Dividing Perennials
After the plant sale, you'll probably need to do some digging, so come learn how to Lift and Divide Perennials. Register by clicking here.
Contain Your Enthusiasm
Are you planning to enter "Contain Your Enthusiasm?" All those categories and a cash prize for a winner in each! It will be fun to see everyone's different containers - please join in.
Click on the heading for more information and an application form.
Photo Scavenger Hunt
This weekend's the beginning of May and as such there is a new Photo Scavenger Hunt available on weekends only. Read more about these fun family activities on our Events Page.
Affiliate Programs
Our Group Members present some wonderful, free programs throughout the year, including many coming up soon. Check out our Affiliate programs on our Events Calendar.
Gallery Exhibit
In our Gallery, we honor National Preservation Month, with an exhibit focusing on its garden preservation. This exhibit showcases some of the people, places, and plants that the Park Commission has both saved and restored.
Stop by to see it, 7 days a week, from 9am-4:30pm.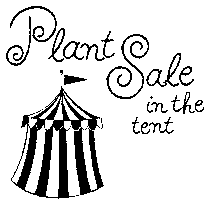 What's in Bloom At the Arboretum
How about a nod to our What's in Bloom list.
The Arboretum is overflowing with color and so too is our on-line What's in Bloom list, maintained by volunteer Phil Dahlen. It was just updated this past weekend.
2013 Plant Sale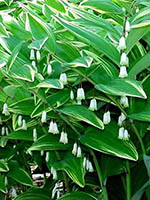 Polygonatum Variegatum
It's hard to believe, but The Friends 18th Annual Plant Sale is this weekend! Put big red stars on your calendar for this Friday through Sunday for the Biggest and Best Plant Sale Ever. Read all about it by clicking on the logo at right where you can also see loads of articles, including many of Sue's favorite plants.
By the way, the polygonatum at left is one of Sue's favorites but so too are most of the plants at the sale.
Check out our on-line list of all the plants ordered for the sale and see if you can guess the rest of her favorites here: http://www.arboretumfriends.org/plantlist.
Retail Partners
As a member of The Friends of The Frelinghuysen Arboretum you can enjoy discounts at our Retail Partners. Please show your Friends' membership card at time of purchase.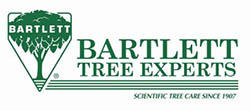 Featured Partner
Our currently featured Retail Partner is Bartlett Tree Experts which is pleased to offer members of The Friends of The Frelinghuysen Arboretum a free 1 time consultation and 10% off any initial order. Offer expires 9/30/13.
Click on their logo on the right for information on tree inspections and treatments following Sandy.
Go to our Retail Partners Web Page for information about all our Retail Partners.
All our events can be found on our Events Page where, we are happy to say, you can register and pay on line -- just click on the "Add to Cart" buttons on our Events page and Membership page. Alternatively, you may register by calling 973-326-7603.