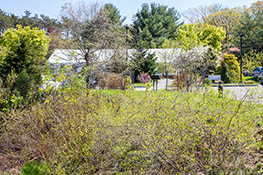 No More Plants!
Another Great Plant Sale
Thanks to everyone who attended the 2013 Plant Sale. It was a great success and we so appreciate your support. Now – get those plants in the ground and keep them well watered in this cool and windy spring!
Some Closing Thoughts
Just a week ago, volunteers congregated at the tent to begin work on the 18th Annual Friends Plant Sale. The Arboretum staff had already delivered the knocked-down shelving, so teams began work setting them units up. Soon, whirring screwdrivers and banging boards led to dozens of shelf modules filling the tent. Read the rest of this article by clicking here.
If you need a break from gardening, come enjoy one of these great programs:
Lifting and Dividing Perennials on Monday, May 13, Register Here.
Viburnums, A Must for Every Garden, Thursday, May 23, Register Here.
Garden Sprouts: Up We Go! on Monday, May 13, Register Here.
Grow, Cook, Eat: Tomatoes on Wednesday, May 15, Register Here.
Mark you calendars for the Great Swamp Bonsai Society's Annual Show on Sunday, June 2, it's free and fabulous!
Annual Meeting
Members: be on the lookout for your Annual Meeting invitation and then be sure to RSVP. The room will be replete with Garden Celebrities including Ken Druse and Margaret Roach.
If you are not a member, this is a great time to join. Simply go to our Membership Page where you can join on-line.
A Tree Needs a Home
An architectural firm in Morristown has a Norfolk Island Pine Tree that has outgrown its home. The tree stands about 14 feet tall and is roughly 6-1/2 feet wide at its widest point. They are trying to find a home for it. If you are interested, please contact Pablo Serrano. Here are a couple of current pictures in their lobby:
What's in Bloom At the Arboretum
The Arboretum is overflowing with color and so too is our on-line What's in Bloom list, maintained by volunteer Phil Dahlen. It was just updated this past weekend.
Retail Partners
As a member of The Friends of The Frelinghuysen Arboretum you can enjoy discounts at our Retail Partners. Please show your Friends' membership card at time of purchase.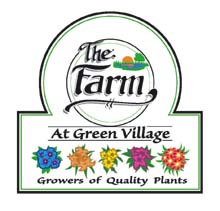 Featured Partner
Our currently Featured Retail Partner is The Farm at Green Village which, in addition to the 10% discount offered below to our members on their huge stock of plant material, has written an article for us on a new disease afflicting impatiens.
Click on their logo on the right to go to the article.
This and prior Featured Retail Partner articles may be accessed by clicking here.
Go to our Retail Partners Web Page for information about all our Retail Partners.
All our events can be found on our Events Page where, we are happy to say, you can register and pay on line -- just click on the "Add to Cart" buttons on our Events page and Membership page. Alternatively, you may register by calling 973-326-7603.