Cicada Fears
The recent cold weather had everyone scrambling to protect tender plants from the frost.
But if you are also worried about potential damage from the upcoming cicada invasion, here's an article to assuage your fears.
Viburnums: A Must for Every Garden
Next week, on Thursday, May 23 we'll gather at Willowwood Arboretum for Viburnums: A Must for Every Garden. There is just no good reason not to grow a viburnum. Let's learn about them and then see them growing in Willowwood's gardens. Register here.
Bonsai Show
On Sunday, June 2 the Bonsai Show will be presented. If you have never been to this show before, you will be amazed at the beauty of the exhibits and welcomed by some of the friendliest and most knowledgeable bonsai hobbyists. No registration is required.
Annual Meeting
Friends Members should have received their invitations to the Annual Meeting on Sunday, June 9. Two garden celebrities will be with us: Annual Award recipient, Ken Druse and our speaker, Margaret Roach.
Light refreshments will be served following the program. Please RSVP, asap!
If you are not a member, this is a great time to join. Simply go to our Membership Page where you can join on-line.
Fairy Day
Blink and June will be here. Fairy Day on Sunday, June 23 is such a popular family event – please register now or you may find that all the fairy sites are spoken for!
Board Games
There is a new visitor amenity at The Frelinghuysen Arboretum! Thanks to the generous support of Bartlett Tree Experts, we now offer a variety of classic and nature themed board games for the public to borrow. Come to the Haggerty Education Center's Front Desk for more information.
What's in Bloom At the Arboretum
The Arboretum is overflowing with color and so too is our on-line What's in Bloom list, maintained by volunteer Phil Dahlen. It was just updated this past weekend.
Retail Partners
As a member of The Friends of The Frelinghuysen Arboretum you can enjoy discounts at our Retail Partners. Please show your Friends' membership card at time of purchase.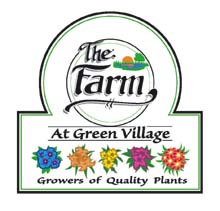 Featured Partner
Our currently Featured Retail Partner is The Farm at Green Village which, in addition to the 10% discount offered below to our members on their huge stock of plant material, has written an article for us on a new disease afflicting impatiens.
Click on their logo on the right to go to the article.
This and prior Featured Retail Partner articles may be accessed by clicking here.
Go to our Retail Partners Web Page for information about all our Retail Partners.
All our events can be found on our Events Page where, we are happy to say, you can register and pay on line -- just click on the "Add to Cart" buttons on our Events page and Membership page. Alternatively, you may register by calling 973-326-7603.