Bonsai Show
Sunday, June 2 is the Great Swamp Bonsai Society's Show at The Frelinghuysen Arboretum. What a fabulous array of bonsai are displayed! If you have ever thought about growing one, these are the folks to speak with. With Father's Day, graduations and weddings coming up, a small bonsai would make a very special gift.
Bamboo Brook Open House
Also on Sunday, June 2 we'll be hosting an Open House at Bamboo Brook Outdoor Education Center. Have you visited there yet? If not, this is an ideal time as we are partnering with the New Jersey Conservation Foundation and the Association of Professional Landscape Designers to offer Meadow Walks and Garden Tours.
There will be some nice children's crafts, a talk about Martha Brookes Hutcheson, who created Bamboo Brook, and some cool refreshments. It's all free, no registration required and runs from Noon – 4pm.
Butterflies of Arizona
On Tuesday, June 4 the North America Butterfly Association offers a free talk on the Butterflies of Arizona. Splendid images and super knowledgeable features. No registration needed, just come along at 7:15 or so.
Annual Meeting
Last call for RSVPs to June 9's Annual Meeting for Members only. There will be great people (Friends members) great ideas (Ken Druse and Margaret Roach) and great food. Please let us know that you plan to attend either by calling the office or by registering on-line.
If you are not a member, this is a great time to join. Simply go to our Membership Page where you can join on-line.
Family Photo Scavenger Hunt
June's Family Photo Scavenger Hunt is ready to go! What surprises are in store this month? Register at the Haggerty education Center's Front Desk.
Contain Your Enthusiasm
So, how are your container plantings looking? If you have one that you think is especially good, please consider registering in Contain Your Enthusiasm. Registration Deadline is June 10. Register using the entry form here.
Click for larger image
Why We Grow Trees
Finally most everything has leafed out and evening temperatures are heading to the safe 60s. Let's take a breather and remember why we plant trees with a look at this neat poster (click image to enlarge)
What's in Bloom At the Arboretum
The Arboretum is overflowing with color and so too is our on-line What's in Bloom list, maintained by volunteer Phil Dahlen. It was just updated yesterday.
Retail Partners
As a member of The Friends of The Frelinghuysen Arboretum you can enjoy discounts at our Retail Partners. Please show your Friends' membership card at time of purchase.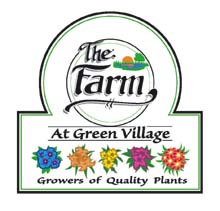 Featured Partner
Our currently Featured Retail Partner is The Farm at Green Village which, in addition to the 10% discount offered below to our members on their huge stock of plant material, has written an article for us on a new disease afflicting impatiens.
Click on their logo on the right to go to the article.
This and prior Featured Retail Partner articles may be accessed by clicking here.
Go to our Retail Partners Web Page for information about all our Retail Partners.
All our events can be found on our Events Page where, we are happy to say, you can register and pay on line -- just click on the "Add to Cart" buttons on our Events page and Membership page. Alternatively, you may register by calling 973-326-7603.