Flower Power Family Day
Mark your calendars for Flower Power Family Day on July 21. Make sure you have a current membership card for free admission! Details here.
Book Club
The Book Club's next meeting is on June 17 at 10am. The topic is the Friends recent trip to Ireland.
Biblical Botany Walking Tour
Dr Jon Greenberg brings the Bible to life in our gardens. Learn about plants of the Bible on Sunday, July 14. Click Here to Register
Lavender Morning
Lavender is just starting to bloom! Learn from plantswoman Louise Hyde about lavender and make a wreath and a wand on July 13. Click on the image to register.
July Jaunt
Seats on the bus to Chanticleer are filling quickly. Take the July Jaunt with us on July 17. Click Here to Register.
What's in Bloom At the Arboretum
The Arboretum is overflowing with color and so too is our on-line What's in Bloom list, maintained by volunteer Phil Dahlen. It is updated every other week.
Retail Partners
As a member of The Friends of The Frelinghuysen Arboretum you can enjoy discounts at our Retail Partners. Please show your Friends' membership card at time of purchase.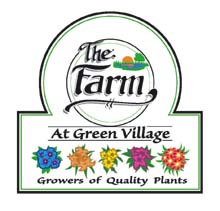 Featured Partner
Our currently Featured Retail Partner is The Farm at Green Village which, in addition to the 10% discount offered below to our members on their huge stock of plant material, has written an article for us on a new disease afflicting impatiens.
Click on their logo on the right to go to the article.
This and prior Featured Retail Partner articles may be accessed by clicking here.
Go to our Retail Partners Web Page for information about all our Retail Partners.
All our events can be found on our Events Page where, we are happy to say, you can register and pay on line -- just click on the "Add to Cart" buttons on our Events page and Membership page. Alternatively, you may register by calling 973-326-7603.