Can July be here already?
We are feeling patriotic in our Cottage Garden!
The newly painted red chairs back up to some blue Salvia x intermidia and White Deutchland Astilbe.
"America the Beautiful"
"America the Beautiful" is our theme for July's Photo Scavenger Hunt featuring native plants.
"Floral Exposures"
The Atrium Gallery explodes with a colorful new exhibit "Floral Exposures."
After the 4th, our "fireworks" of programs begins!
What's in Bloom At the Arboretum
The Arboretum is overflowing with color and so too is our on-line What's in Bloom list, maintained by volunteer Phil Dahlen. It is updated every other week.
Retail Partners
As a member of The Friends of The Frelinghuysen Arboretum you can enjoy discounts at our Retail Partners. Please show your Friends' membership card at time of purchase.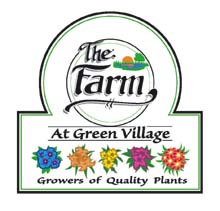 Featured Partner
Our currently Featured Retail Partner is The Farm at Green Village which, in addition to the 10% discount offered below to our members on their huge stock of plant material, has written an article for us on a new disease afflicting impatiens.
Click on their logo on the right to go to the article.
This and prior Featured Retail Partner articles may be accessed by clicking here.
Go to our Retail Partners Web Page for information about all our Retail Partners.
All our events can be found on our Events Page where, we are happy to say, you can register and pay on line -- just click on the "Add to Cart" buttons on our Events page and Membership page. Alternatively, you may register by calling 973-326-7603.