Chanticleer
Shady Games
The heat is on! But there are lots of shady spots here at The Frelinghuysen Arboretum.
Grab a board game at the Front Desk and head out for a few hours of "unplugged" fun. Games include Wildflower Bingo, Bird Concentration and Gardenopoly (a Monopoly spinoff). We also have chess, checkers and backgammon.
Perfect summertime entertainment when you want to rest your body but exercise your mind.
July Jaunt to Chanticleer
There are still a few seats on the bus to Chanticleer on Wednesday, July 17th. Garden first, then lunch and a tad of shopping at the very trendy Terrain.
Pictured at right are some of Chanticleer's famed containers. Register by clicking here.
This Saturday's Lavender Morning wreath making class with Louise Hyde has limited space. Please register now and take some calm home!
The Pick of the Season
On Sunday, Chef Cynthia Triolo will be baking up a storm: peach melba cobbler, summer pudding, blueberry pie, mixed berry shortcakes: need we say more? Click to register.
Summer Squash Cooking Demonstration
At Grow, Cook, Eat (Wednesday, July 17th) we'll be featuring zucchini and making zucchini pickles with a recipe from the Zuni Cafe in San Francisco. Register here.
FLOWER POWER Family Day
Coming up soon (Sunday, July 21st): FLOWER POWER FAMILY DAY.
Check now to make sure you have your membership card for free admission. Otherwise, $10 per car.
What's in Bloom At the Arboretum
The Arboretum is overflowing with color and so too is our on-line What's in Bloom list, maintained by volunteer Phil Dahlen. It is updated every other week.
Retail Partners
As a member of The Friends of The Frelinghuysen Arboretum you can enjoy discounts at our Retail Partners. Please show your Friends' membership card at time of purchase.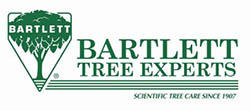 Featured Partner
Our currently featured Retail Partner is Bartlett Tree Experts which is pleased to offer members of The Friends of The Frelinghuysen Arboretum a free 1 time consultation and 10% off any initial order. Offer expires 9/30/13.
Click on their logo on the right for information on tree inspections and treatments following Sandy.
Go to our Retail Partners Web Page for information about all our Retail Partners.
All our events can be found on our Events Page where, we are happy to say, you can register and pay on line -- just click on the "Add to Cart" buttons on our Events page and Membership page. Alternatively, you may register by calling 973-326-7603.