FLOWER POWER Family Day
GRAB YOUR MEMBERSHIP CARD, AND A BLANKET OR LAWN CHAIR!
This Sunday, the heat wave ends and FLOWER POWER is on -
Crafts, like Flower Scented Milk Bath
Flower Face-Painting
Flower Bingo – 4 across wins shrub rose
Flower Scavenger Hunt (bring a camera) – win a Red Oak
North American Butterfly Association and their caterpillars
Master Gardeners answer your flower problem questions
Decorate your wagon or cart with flowers
March in the Parade with Giant Puppets from the Puppeteers Cooperative. See them also on Facebook.
End the day on the Great Lawn listening to the Julia and Ira Levin's kid friendly folk rock
All free ... All because you are a FRIEND! (Otherwise, $10 per car).
What's in Bloom At the Arboretum
The Arboretum is overflowing with color and so too is our on-line What's in Bloom list, maintained by volunteer Phil Dahlen. It is updated every other week.
Retail Partners
As a member of The Friends of The Frelinghuysen Arboretum you can enjoy discounts at our Retail Partners. Please show your Friends' membership card at time of purchase.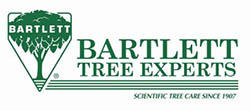 Featured Partner
Our currently featured Retail Partner is Bartlett Tree Experts which is pleased to offer members of The Friends of The Frelinghuysen Arboretum a free 1 time consultation and 10% off any initial order. Offer expires 9/30/13.
Click on their logo on the right for information on tree inspections and treatments following Sandy.
Go to our Retail Partners Web Page for information about all our Retail Partners.
All our events can be found on our Events Page where, we are happy to say, you can register and pay on line -- just click on the "Add to Cart" buttons on our Events page and Membership page. Alternatively, you may register by calling 973-326-7603.