The dog days of summer are upon us...
... time to watch and harvest our beautiful gardens!
Gardening Positions at Frelinghuysen & Willowwood Arboreta
Help keep the gardens beautiful by passing our Positions Open link on to someone who may be interested in a paid gardening position with the Morris County Park Commission. Full details may be found there.

Float in the Flower Power Parade
Flower Power Family Day
Last Sunday's Flower Power Family Day was great fun!
Here's an image from our parade (click on it for a larger version) – kids and parents had a great time decorating their wagons for the parade.
Thanks to all the volunteers who made it possible, and a special thank you to board member, Jennifer Basile. Thanks as well to the Puppeteers Cooperative, the Levins and select members of the East Hanover High School Marching Band. Many more images will follow shortly in our gallery.
Walking Tours
If you have company in from out of town, perhaps they would enjoy a free walking tour of the Frelinghuysen Aboretum on Sunday, August 4 at 2pm. Click on the title for more information.
Other Fun Events
The Mum Society meets on Friday, August 2nd at 7:30pm – "Perennials – Divide and Conquer."
The Photo Scavenger Hunt for August is "That's So Cool."
Chef Cynthia Triolo cooks up a storm (and we hope that's the only one we see this August) in "Cooking Greens" on Wednesday, August 21st, part of our "Grow, Cook, Eat" series.
In the meantime, watch the bees and butterflies and enjoy these summer days.
What's in Bloom At the Arboretum
The Arboretum is overflowing with color and so too is our on-line What's in Bloom list, maintained by volunteer Phil Dahlen. It is updated every other week.
Retail Partners
As a member of The Friends of The Frelinghuysen Arboretum you can enjoy discounts at our Retail Partners. Please show your Friends' membership card at time of purchase.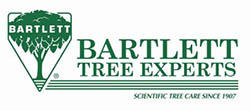 Featured Partner
Our currently featured Retail Partner is Bartlett Tree Experts which is pleased to offer members of The Friends of The Frelinghuysen Arboretum a free 1 time consultation and 10% off any initial order. Offer expires 9/30/13.
Click on their logo on the right for information on tree inspections and treatments following Sandy.
Go to our Retail Partners Web Page for information about all our Retail Partners.
All our events can be found on our Events Page where, we are happy to say, you can register and pay on line -- just click on the "Add to Cart" buttons on our Events page and Membership page. Alternatively, you may register by calling 973-326-7603.