C. 'Molten Coral'
Coleus Cuttings
Now is the times to take cuttings from your favorite coleus. We have some unusual varieties from the Under the Sea Collection growing in the Scherer Garden, including Coleus 'Molten Coral,' shown at right (click on the image to enlarge).
On Thursday evening from 6-7 Lesley Parness, Superintendent of Horticultural Education, will be giving cuttings away to Friends Members. If you plan to attend, please bring small plastic bags to carry your treasures home in. You can grow them out indoors this winter and transplant to next year's garden. Meet in the Scherer Garden from 6pm-7pm.
Herbal Vinegars
Bring a friend and have fun at this Saturday morning class. Make 3 big bottles of herbal vinegar and gain skills for a lifetime. Some of the herbs we'll be using include Lime Thyme, La Crema Sage, Dutch Mill Rosemary, African Blue Basil.
Space is limited, so register now by clicking here.
Greystone
The Atrium Gallery's August exhibit on Greystone is up. Stunning imagery combines with maps and other historical documents to make a fascinating display.
Register now for the Sunday, Sept. 8th talk by clicking here.
Calling All Chileheads!
Our chile peppers continue to grow and ripen. If you want to be part of the harvest, email lparness@morrisparks.net and Lesley will email you sometime next month when they are ready to be picked.

Click to Enlarge
Mysterious Moths
There is a special program at Bamboo Brook this Friday night from 9pm-midnight!
If you love watching butterflies by day, check out mysterious moths at night. Watch as naturalist Blaine Rothauser catches moths on a sheet back-lit by a bright light. Discover the secrets of these magnificently diverse creatures.
This is a great family night-time outing. Bring a flashlight! This event is free!
What's in Bloom At the Arboretum
The Arboretum is overflowing with color and so too is our on-line What's in Bloom list, maintained by volunteer Phil Dahlen. It is updated every other week.
Gardening Positions at Frelinghuysen & Willowwood Arboreta
Help keep the gardens beautiful by passing our Positions Open link on to someone who may be interested in a paid gardening position with the Morris County Park Commission. Full details may be found there.
Retail Partners
As a member of The Friends of The Frelinghuysen Arboretum you can enjoy discounts at our Retail Partners. Please show your Friends' membership card at time of purchase.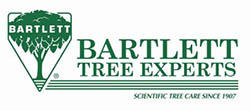 Featured Partner
Our currently featured Retail Partner is Bartlett Tree Experts which is pleased to offer members of The Friends of The Frelinghuysen Arboretum a free 1 time consultation and 10% off any initial order. Offer expires 9/30/13.
Click on their logo on the right for information on tree inspections and treatments following Sandy.
Go to our Retail Partners Web Page for information about all our Retail Partners.
All our events can be found on our Events Page where, we are happy to say, you can register and pay on line -- just click on the "Add to Cart" buttons on our Events page and Membership page. Alternatively, you may register by calling 973-326-7603.