Horticulture Therapy & Greystone Park
The talk on Greystone promises to be a very good one.
Speakers Dr. Carla Yanni and Dr. Joel Flager are each experts in their fields. Dr. Yanni will speak on the relationship between architecture and mental health. Dr. Flagler will talk about the role of horticulture in human health.
Register now for the Sunday, Sept. 8th talk by clicking here.
Herbal Vinegars
Last year many of us experienced a form of downy mildew on our basil plants, but this year it's a bumper crop!
We are growing african blue, thai, lemon, anise, globe and many other basil cultivars. We'll be using a number of them in our herbal vinegar class on Saturday, September 7th.
Register by clicking here and make three nice sized bottles, learn a skill and have a lot of fun! Taste some herbal butters too - just in time for fall entertaining.
Affiliate Member Groups
'come september and our affiliate member groups are back in gear!
Tues 9/3 North American Butterfly Association offers a talk on the butterflies of Central Europe
Fri 9/6 NJ State Mum Society presents a program on deer in the garden
Tues 9/10 Great Swamp Bonsai Society offers a lecture on bonsai
Mid Autumn Moon Festival
Have you marked your calendar for Sunday September 22's Mid Autumn Moon Festival?
These images show how the show, "Chang Er Flies to the Moon," a shadow puppet presentation, is staged.
Children, ages 3+ will enjoy this play accompanied by narration and music.
After the show sample traditional holiday foods and crafts.
Click on the title or images for more information.
Jalapenos, Kung Pao, Scotch Bonnets!
Our chiles are ripening – who wants some serious firepower in their kitchen?
Send your name to lparness@morrisparks.net and Lesley will contact you when it's time to harvest.
And Finally – What's Cooking?
What's in Bloom At the Arboretum
The Arboretum is overflowing with color and so too is our on-line What's in Bloom list, maintained by volunteer Phil Dahlen. It is updated every other week.
Gardening Positions at Frelinghuysen & Willowwood Arboreta
Help keep the gardens beautiful by passing our Positions Open link on to someone who may be interested in a paid gardening position with the Morris County Park Commission. Full details may be found there.
Retail Partners
As a member of The Friends of The Frelinghuysen Arboretum you can enjoy discounts at our Retail Partners. Please show your Friends' membership card at time of purchase.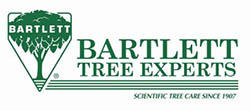 Featured Partner
Our currently featured Retail Partner is Bartlett Tree Experts which is pleased to offer members of The Friends of The Frelinghuysen Arboretum a free 1 time consultation and 10% off any initial order. Offer expires 9/30/13.
Click on their logo on the right for information on tree inspections and treatments following Sandy.
Go to our Retail Partners Web Page for information about all our Retail Partners.
All our events can be found on our Events Page where, we are happy to say, you can register and pay on line -- just click on the "Add to Cart" buttons on our Events page and Membership page. Alternatively, you may register by calling 973-326-7603.