Outstanding September Programs
Members should have their Fall, 2013 edition of Arboretum Leaves.
But before we put Summer to rest, here are a few outstanding September programs:
September 1 - A free tour of The Frelinghuysen Arboretum with our knowledgeable Volunteers – no registration needed
September 8 - "Community, Care and Creativity: Horticultural Therapy and Greystone Park" – register online by clicking here.
September 15 - "Beets Me' cooking demonstration – register online by clicking here.
September 22 – a double program whammy:

The Mid Autumn Moon Festival with a brilliant hi tech performance by Chinese Theatre Works at The Frelinghuysen – register online by clicking here. and
an Open House at Bamboo Brook with our Friends from the Association of Professional Landscape Designers giving garden tours, the New Jersey Conservation Foundation staff giving meadow walks and MCPC staff presenting a talk on the life Bamboo Brook's original owner and designer, Martha Brookes Hutcheson. Free, no registration required.
Butterflies
Our Affiliates are busy this September too. On September 3 join the North American Butterfly Association for a talk on the Butterflies of Central Europe.
On a related topic, here is a link to an article on the decline of the Monarch Butterfly for your consideration.
What's in Bloom At the Arboretum
The Arboretum is overflowing with color and so too is our on-line What's in Bloom list, maintained by volunteer Phil Dahlen. It is updated every other week.
Gardening Positions at Frelinghuysen & Willowwood Arboreta
Help keep the gardens beautiful by passing our Positions Open link on to someone who may be interested in a paid gardening position with the Morris County Park Commission. Full details may be found there.
Retail Partners
As a member of The Friends of The Frelinghuysen Arboretum you can enjoy discounts at our Retail Partners. Please show your Friends' membership card at time of purchase.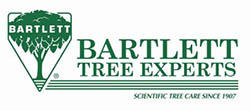 Featured Partner
Our currently featured Retail Partner is Bartlett Tree Experts which is pleased to offer members of The Friends of The Frelinghuysen Arboretum a free 1 time consultation and 10% off any initial order. Offer expires 9/30/13.
Click on their logo on the right for information on tree inspections and treatments following Sandy.
Go to our Retail Partners Web Page for information about all our Retail Partners.
All our events can be found on our Events Page where, we are happy to say, you can register and pay on line -- just click on the "Add to Cart" buttons on our Events page and Membership page. Alternatively, you may register by calling 973-326-7603.