Looking for some fun things to do this September?
We've got you covered on Sunday, September 22 - with two great events!
For families - Mid Autumn Moon Festival - featuring Chinese Theatre Works, crafts and traditional holiday foods. Register online by clicking here.
For nature lovers - Bamboo Brook Open House - featuring a Butterfly Ramble, tours of the gardens and a talk on Martha Brookes Hutcheson. No registration required.
For Book Lovers
The Garden Lovers Book Club meets at the Haggerty Education Center Monday, September 16 from 10:30-Noon.
This club is open to members of the Friends - read more about it on our Library Page by clicking here.
Jr. Master Gardener Program
For budding environmentalists - Please consider our Jr. Master Gardener Program. Read about it on our Children's Page by clicking here.
Affiliates
From our Member organizations: All free and no registration required:
September 11 - For african violet lovers, the African Voilet Club of Morris County counsels you on how to revive your african violets after the summer.
September 15 – For rock garden lovers, the NJ Rock Garden Society Watnong Chapter has a great speaker on the Everette Rock Garden at NYBG.
September 21 – For dahlia lovers, the NJ Dahlia Society pulls out the stoppers with an eye-catching display of these beauties!
Don't miss out on all these fine September programs!
Ghost Chili Pepper Sauce
Mike Consoli, cousin of Friends member Erin DeBiasse, shares this recipe for a super hot sauce made from our ghost chilis. He's a brave man!
Do you like it hot? Come see the "Some Like it Hot" exhibit and cell phone tour or listen to The Story of Chiles at home by calling 973-975-0973.
Hello,
Thank you for the ghost chili pepper! I made a nice spicy hot sauce with them. Attached are photos of the process and the following was my recipe:
| | |
| --- | --- |
| 2 fresh ghost chilies | 3/4 TBSP salt |
| 7 dried ghost chilies | 4 cloves garlic |
| 22 habanero | TBSP oil |
| 1/4 large onion | Splash of beer |
| 3/4 cup vinegar | Juice of 2 limes |
Fry onions and garlic in oil until onions are slightly browned. Add splash of beer and boil onions until nice and soft. Cool in refrigerator to room temperature. Add all ingredients into food processor and chop until liquefied.
Enjoy,
Michael Consoli
What's in Bloom At the Arboretum
The Arboretum is overflowing with color and so too is our on-line What's in Bloom list, maintained by volunteer Phil Dahlen. It is updated every other week.
Gardening Positions at Frelinghuysen & Willowwood Arboreta
Help keep the gardens beautiful by passing our Positions Open link on to someone who may be interested in a paid gardening position with the Morris County Park Commission. Full details may be found there.
Retail Partners
As a member of The Friends of The Frelinghuysen Arboretum you can enjoy discounts at our Retail Partners. Please show your Friends' membership card at time of purchase.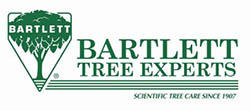 Featured Partner
Our currently featured Retail Partner is Bartlett Tree Experts which is pleased to offer members of The Friends of The Frelinghuysen Arboretum a free 1 time consultation and 10% off any initial order. Offer expires 9/30/13.
Click on their logo on the right for information on tree inspections and treatments following Sandy.
Go to our Retail Partners Web Page for information about all our Retail Partners.
All our events can be found on our Events Page where, we are happy to say, you can register and pay on line -- just click on the "Add to Cart" buttons on our Events page and Membership page. Alternatively, you may register by calling 973-326-7603.