Correction
This week's Email Blast contained an erroneous link in the "Retail Partners Additions" section. The corrected entry about New Jersey Deer Control may be found below. Sorry for the inconvenience.
February is Around the Corner and Love Is In the Air
Celebrate it with the February Photo Scavenger Hunt on weekends only.
Or by taking Marge Hulstrunk's "Hearts and Flower," Come on gentlemen, don't be shy.
Click the links for progam and registration information.
Affiliate Meetings
On February 2 enjoy pictures of beautiful butterflies with NABA.
On February 6 see what happened at the recent Gesneriad Convention.
Both programs are FREE, no registration required.
Bus Trip: Philadelphia Flower Show
The Philadelphia Flower Show is revving up - visit it with us on March 3 and enjoy the TLC that Bus Chairs Sue and Steve George give to all our travelers. Register on-line by clicking here.
Retail Partners Additions
A great reason for joining the Friends is our ever growing list of Retail Partners.
Please welcome New Jersey Deer Control (NJDC) as the newest Retail Partner.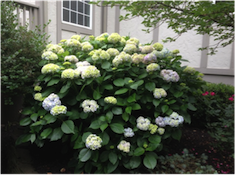 After NJDC Treatment
Click here to read more about their deer repellent spraying service, developed by a wildlife biologist. This is a proprietary repellent that is extremely weather resistant, virtually odorless, and undetectable! NJDC's product is environmentally safe, harmless to humans and pets, and will not damage your trees, shrubs or flowers. Read this article on our web site to learn more about our newest Retail Partner, and as a member of The Friends, how to request your trial application at no charge and further details of NJDC's offer.
Visit our Retail Partners page to learn about all our Retail Partners and the benefits they offer. Become a member now to take advantage of this by visiting our Membership Page.
All our events can be found on our Events Page where, we are happy to say, you can register and pay on line -- just click on the "Add to Cart" buttons on our Events page and Membership page. Alternatively, you may register by calling 973-326-7603.