The Endless Winter
Eskimos have more than 25 words for white. We have one: ENOUGH!
If you are hankering for a nice shot of green, come to TANKED on Saturday, February 22.
Even if you don't plan on starting an indoor aquatic garden, these plants are fascinating and they bring a new definition to the term "houseplant." Click here to register.
Bus Trip: Philadelphia Flower Show
On Thursday, March 6, we're traveling to the Philadelphia Flower Show? Reserve your seat now. And if you have a smart phone or tablet, here's the link to the new and free Flower Show App. If does everything you need at the show, except massage your achy feet!
Click on the flyer to register.
Matilda's Tea
The theme at this year's Matilda's Tea on Saturday, March 8 is Magic and features a Magic Show and presentation on Harry Houdini. We'll be serving up a tasty breakfast that will disappear from your youngster's plate like, well like magic.....
Get out the party dresses and click here to register on-line.
Lettuce Begin
Our heat mats and grow lights are on! Now LETTUCE BEGIN! On Wednesday, March 12, join Lesley Parness and learn about the many types of lettuce and how to grow them in your garden, a window box or a container. You will start a flat to take home.
Click on the nice green image to register on-line.
Grow, Cook, Eat - Peas
The popular Grow, Cook, Eat series is starting up again. Join Cynthia Triolo and Gwen Montgomery as they explore vegetables from Spade to Spatula. First class is on Wednesday, March 19, and we're starting off humble-like with PEAS!
Click on the flyer to register on-line.
2014 Plant Sale
Here is a somewhat longer range antidote for Winter Blues: The Friends 19th Annual Plant Sale is coming up the first weekend of May! Put big red stars on your calendar for the Members-Only Sale Friday, May 2nd, and the Main Event Saturday and Sunday, May 3rd & 4th.
Plant ordering is under way and our On-Line Plant List reflects the buyers' work to date. Read all about it by clicking here where you can also see loads of articles, including many of our favorite plants.
Retail Partners Additions
A great reason for joining the Friends is our ever growing list of Retail Partners.
Please welcome New Jersey Deer Control (NJDC) as our newest Retail Partner.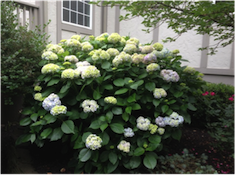 After NJDC Treatment
Click here to read more about their deer repellent spraying service, developed by a wildlife biologist. This is a proprietary repellent that is extremely weather resistant, virtually odorless, and undetectable! NJDC's product is environmentally safe, harmless to humans and pets, and will not damage your trees, shrubs or flowers. Read this article on our web site to learn more about our newest Retail Partner, and as a member of The Friends, how to request your trial application at no charge and further details of NJDC's offer.
Visit our Retail Partners page to learn about all our Retail Partners and the benefits they offer. Become a member now to take advantage of this by visiting our Membership Page.
All our events can be found on our Events Page where, we are happy to say, you can register and pay on line -- just click on the "Add to Cart" buttons on our Events page and Membership page. Alternatively, you may register by calling 973-326-7603.