New Jersey Flower and Garden Show
This weekend the New Jersey Flower and Garden show offers a respite from the cold weather. Print a coupon from our Home Page and please say hi to us at the Garden State Gardens Consortium booth!
Affiliate Programs
On Saturday, February 15, the Tri State African Violet Council welcomes you to their monthly meeting.
On Tuesday, February 18 the Great Swamp Bonsai Society does the same.
No fee and no registration is required for either of these lovely programs.
TANKED
Take a trip somewhere green and fluid. No, not the South Seas, but TANKED. On Saturday, February 22 aquaria experts present lectures and demonstrations on how to get started with this plant-centric hobby.
Will you be the lucky winner of a fully set up tank? Register by clicking on the image at right.
Bus Trip: Philadelphia Flower Show
We are traveling Thursday, March 6 to the city of Brotherly Love for the Philadelphia Flower Show.
Don't let the bad weather delay your registration. If we have to cancel the trip, you will receive a full and prompt refund.
Now, let's all think positive! Register on-line by clicking the flyer at left.
Matilda's Tea
Harry Houdini is in the house on Saturday, March 8 for "Matilda's Tea."
Learn a few tricks of your own - Register on-line by clicking here.
Lettuce Begin
A lovely assortment of lettuce seeds awaits those who attend "Lettuce Begin" on Wednesday, March 12. Plus some alyssum seeds.
Why? You'll have to come to find out! Register by clicking here.
Vitis vinifera Lovers
Finally, here is a link to a timely article for those lovers of the plant Vitis vinifera.
2014 Plant Sale
Here is a somewhat longer range antidote for Winter Blues: The Friends 19th Annual Plant Sale is coming up the first weekend of May! Put big red stars on your calendar for the Members-Only Sale Friday, May 2nd, and the Main Event Saturday and Sunday, May 3rd & 4th.
We added lots more plants this week to our On-Line Plant List so take a look during tomorrow's snow. Read all about the sale by clicking here where you can also see loads of articles, including many of our favorite plants.
Retail Partners
As a member of The Friends of The Frelinghuysen Arboretum you can enjoy discounts at our Retail Partners. Please show your Friends' membership card at time of purchase. Click here to see the up-to-date list of fine vendors.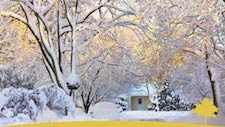 Reduce the Risk of Falling Branches
The snow, ice, and wind of winter can be tough on your trees so now is the time to schedule pruning. Removal of dead or diseased wood can greatly reduce the risk of falling branches this time of year. Plus, pruning can improve the overall health and appearance of your trees, getting them in shape for spring. Click here to learn more about Winter Pruning as discussed by our Retail Partner Bartlett Tree.
This and prior Featured Retail Partner articles (including NJ Deer Control's) may be accessed by clicking here.
All our events can be found on our Events Page where, we are happy to say, you can register and pay on line -- just click on the "Add to Cart" buttons on our Events page and Membership page. Alternatively, you may register by calling 973-326-7603.