TANKED
Get TANKED, this Saturday. Explore the world of indoor aquatic gardens. Is a mini-tank in your future? Goldfish snacks provided (the crackers, not the fish). Click here to register.
It's Tea Time!
Two teas are in the works-
Benjamin Blackburn Scholarship Tea
The Benjamin Blackburn Scholarship Tea
The Benjamin Blackburn Scholarship Tea features the dramatic impersonation of Beatrix Farrand by author and actress, Coleen Plimpton. Proceeds support the Benjamin Blackburn Scholarship.
Wednesday, March 26th - register by clicking the flyer at right.
Matilda's Tea
Matilda's Tea Party offers a magic show, tasty refreshments, a lovely craft and a great excuse for getting dressed up.
Saturday, March 8th - register by clicking here.
Beautiful Arrangement
Spring Emerging
Spring is coming and at floral designer Marge Hulstrunk's "Spring Emerging" class you will make a lovely tribute to those special days of early spring. Don't worry, Marge has every detail figured out to make you look like a pro!
Treat yourself to something nice on Thursday March 20th – register by clicking the arrangement at right.
Bus Trip: Philadelphia Flower Show
Got a seat on the bus? The bus to the Philadelphia Flower Show (Thursday, March 6th) is filling. Don't miss the chance to see the show with your Friends. Yes, your feet will hurt, but your heart will be full and your mind spinning with all the new ideas for gardening!
Lettuce Begin
Join us Wednesday, March 12th to learn the history and culture of Lettuce, an ancient crop.
Then, you'll get to plant some modern hybrids and heirloom varieties of looseleaf, crisphead and butterleaf lettuces, plus some heat resistant arugula for your garden and containers.
Click the image at right to register.
Poets Among Us?
If your literary tastes include poetry, check out these lovely odes to gardening at Orion Magazine.
2014 Plant Sale
Here is a somewhat longer range antidote for Winter Blues: The Friends 19th Annual Plant Sale is coming up the first weekend of May! Put big red stars on your calendar for the Members-Only Sale Friday, May 2nd, and the Main Event Saturday and Sunday, May 3rd & 4th.
We added lots more plants to our On-Line Plant List so take a look during tomorrow's snow. Read all about the sale by clicking here where you can also see loads of articles, including many of our favorite plants.
Retail Partners
As a member of The Friends of The Frelinghuysen Arboretum you can enjoy discounts at our Retail Partners. Please show your Friends' membership card at time of purchase. Click here to see the up-to-date list of fine vendors.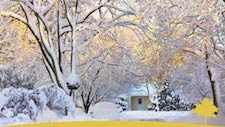 Reduce the Risk of Falling Branches
The snow, ice, and wind of winter can be tough on your trees so now is the time to schedule pruning. Removal of dead or diseased wood can greatly reduce the risk of falling branches this time of year. Plus, pruning can improve the overall health and appearance of your trees, getting them in shape for spring. Click here to learn more about Winter Pruning as discussed by our Retail Partner Bartlett Tree.
This and prior Featured Retail Partner articles (including NJ Deer Control's) may be accessed by clicking here.
All our events can be found on our Events Page where, we are happy to say, you can register and pay on line -- just click on the "Add to Cart" buttons on our Events page and Membership page. Alternatively, you may register by calling 973-326-7603.