Bus Trip to Philadelphia Flower Show
This image of Niwaki, or Japanese tree sculpting, is a preview from the upcoming Philadelphia Flower Show.
Register now for our bus trip, leaving a 10:30am sharp on Thursday, March 6. Enjoy the sights and smells of this great preview of spring with time for a stop at Reading Terminal Market or Chinatown too!
Don't miss out! The bus leaves for this great flower show next week so REGISTER NOW by clicking here.
Archetypes of Botanic Literature
The snow caused us to change the date of "Archetypes of Botanic Literature" to Thursday March 6. If you are a history buff or a book lover, this program is highly recommended and it is only open to Friend's Members. Register here for guaranteed goose bumps.
Spring Emerging
Marge is waiting.... and "Spring is Emerging" at her Thursday March 20 workshop in which you will create a charming vignette of the forest floor in early spring. Just bring clippers and a shallow box to carry your masterpiece home in. Register by clicking here.
Lettuce Begin
What are we planting at "Lettuce Begin" on Wednesday March 12 at 6:30pm? Black Seeded Simpson, Four Seasons, Igloo, a heat tolerant Arugula and Orach. Get your spring greens ahead of the curve.
Some seats in the nighttime class are still open so register now by clicking here.
Grow, Cook, Eat — Peas
"Grow, Cook, Eat" begins with Peas on Wednesday March 19. Count on Gwen and Cynthia to make this humble vegetable easy to grow and tasty.
Register on-line by clicking the image at right.
Affiliate Organization Programs
Enjoy these great Affiliate Organization programs – all FREE and no registration required:
It's "Butterflies of Ecuador" at the NABA meeting on March 4 at 7:30pm
The Gesneriad Society present propagation tips on March 6 at 7:30pm
The Great Swamp Bonsai Society meets at 7pm on March 11
The Home Garden Club of Morristown welcomes rosarian Jeff Van Pelt's talk at 1pm on March 19
2014 Plant Sale
Here is a somewhat longer range antidote for Winter Blues: The Friends 19th Annual Plant Sale is coming up the first weekend of May! Put big red stars on your calendar for the Members-Only Sale Friday, May 2nd, and the Main Event Saturday and Sunday, May 3rd & 4th.
Read about some splendid hellebores in the newest article about great plants at this year's plant sale by going to our Plant Sale Page.
We have added lots of plants to our On-Line Plant List so take a look and start your wish list. Read all about the sale by clicking here where you can also see loads of articles, including many of our favorite plants.
Retail Partners
As a member of The Friends of The Frelinghuysen Arboretum you can enjoy discounts at our Retail Partners. Please show your Friends' membership card at time of purchase. Click here to see the up-to-date list of fine vendors.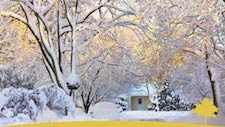 Reduce the Risk of Falling Branches
The snow, ice, and wind of winter can be tough on your trees so now is the time to schedule pruning. Removal of dead or diseased wood can greatly reduce the risk of falling branches this time of year. Plus, pruning can improve the overall health and appearance of your trees, getting them in shape for spring. Click here to learn more about Winter Pruning as discussed by our Retail Partner Bartlett Tree.
This and prior Featured Retail Partner articles (including NJ Deer Control's) may be accessed by clicking here.
All our events can be found on our Events Page where, we are happy to say, you can register and pay on line -- just click on the "Add to Cart" buttons on our Events page and Membership page. Alternatively, you may register by calling 973-326-7603.