Branching Out!
Registration is open for Branching Out! Our children's gardening program is now in its 43rd year! Kids have a great time learning how to grow vegetables, along with cooking, crafts and socializing in a non-competitive, confidence-building environment.
Space is open in the Kindergarten and Grades 1-3 groups. They meet on Saturday morning in the Spring and Monday and Wednesday mornings in July and August. Call Horticultural Program Specialist Gwen Montgomery at 973-631-5004 for details. Read more about the program on our Children's Page.
Benjamin Blackburn Tea
Colleen Plimpton (colleenplimpton.com) performs at this year's Benjamin Blackburn Tea on Wednesday March 26 at 1pm. Her subject is Beatrix Farrand, one of America's first female landscape architects.
Enjoy the performance, followed by delightful refreshments, and the knowledge that you are supporting a scholarship to benefit a student in the Landscape Technology program at County College of Morris. Please register on-line by clicking on the image at right.
Grow, Cook, Eat — Peas
Get ready to plant! It's time to plant peas – learn how to grow them and how to cook them at Grow, Cook, Eat on Wednesday March 19. Register on-line by clicking here.
How-To House Plants
How have your houseplants fared this winter? If they look blue, learn how to keep them happy at How-To Houseplants with Marc Zukovich on March 29.
Click on the image at right to register on-line.
Upcoming Affiliate programs include:
Great Garden Plants on Sunday, March 16 with the Rock Garden Society.
Roses with rosarian Jeff Van Pelt on Wednesday, March 19 with the Home Garden Club of Morristown.
Arboretum Leaves in the Mail
Be on the lookout next week for the Spring issue of Arboretum Leaves in your mailbox or your inbox!
2014 Plant Sale
Here is a somewhat longer range antidote for Winter Blues: The Friends 19th Annual Plant Sale is coming up the first weekend of May! Put big red stars on your calendar for the Members-Only Sale Friday, May 2nd, and the Main Event Saturday and Sunday, May 3rd & 4th.
The latest article on the Plant Sale Page, "A is for Anigozanthos and ...," focuses on some of the outstanding plants at this year's sale from the beginning of the alphabet.
We have added lots of plants to our On-Line Plant List so take a look and start your wish list. Read all about the sale by clicking here where you can also see loads of articles, including many of our favorite plants.
Retail Partners
As a member of The Friends of The Frelinghuysen Arboretum you can enjoy discounts at our Retail Partners. Please show your Friends' membership card at time of purchase. Click here to see the up-to-date list of fine vendors.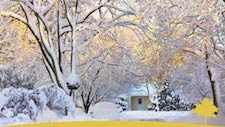 Reduce the Risk of Falling Branches
The snow, ice, and wind of winter can be tough on your trees so now is the time to schedule pruning. Removal of dead or diseased wood can greatly reduce the risk of falling branches this time of year. Plus, pruning can improve the overall health and appearance of your trees, getting them in shape for spring. Click here to learn more about Winter Pruning as discussed by our Retail Partner Bartlett Tree.
This and prior Featured Retail Partner articles (including NJ Deer Control's) may be accessed by clicking here.
All our events can be found on our Events Page where, we are happy to say, you can register and pay on line -- just click on the "Add to Cart" buttons on our Events page and Membership page. Alternatively, you may register by calling 973-326-7603.