Matilda's Café Opens
Spring teased us on Sunday as we celebrated the opening of Matilda's Café with Congressman Rodney Frelinghuysen helping to cut the ribbon. Click on the image for more pictures.
The Potting Shed
Lots of clever d.i.y.ers turned out for the first installment of The Potting Shed and learned how to use chicken wire to make garden urns. Click on the image for more pictures.
Future Potting Sheds take place on the first Sunday of the month. No registration is required, just bring some enthusiasm and come along. Click here for more information.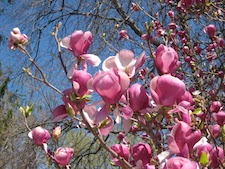 At the Preview Talk
What's happening this week?
This Thursday night (April 10) treat yourself to a sequence of stunning plant images accompanied by the knowledgeable advice of Sue Acheson.
Sue has selected a splendid array of new and trusty cultivars in every category – annual, perennial, shrub, tree, vine- to bring beauty and add value to your garden, all available at this year's Plant Sale.
Please register here for the Plant Sale Preview Presentation.
Changing Climates
To keep your garden healthy, be prepared for climate change. Plant pathologist Margaret Daughtery shares years of research and lots of valuable advice on April 17. Forewarned is forearmed!
Tour the Tourne
Have you ever visited the Tourne County Park? A bit remote, but worth the drive and especially so when we have Rockaway Valley Garden Cub member Lee Gaitskill leading the tour to see the spring ephemerals growing on this hillside.
Please wear closed, sturdy hiking shoes. Register on-line by clicking here.
Early Spring Produce, Italian Style
We've just sampled some of the tasty dishes Chef Cynthia Triolo has prepared for Sunday, April 13's class "Early Spring Produce, Italian Style." Delicious - and there are still a few spots open, so if you want to find new ways to eat healthy greens, register by clicking here.
Grow, Cook, Eat
Grow, Cook, Eat looks at crucifers (Broccoli, Cabbage and Cauliflower) on April 16. Learn how to grow them and how to enjoy their distinctive tastes.
Affiliate Programs
And from our Affiliate Members, we have all these FREE programs, no registration required!
If you attended the lovely African Violet show and purchased a plant, you may want to attend this Thursday, April 9's meeting at 7:30pm whose subject is most appropriately "What do I do with that plant I just bought?".
Mark your calendars for Tuesday April 29 as the Great Swamp Bonsai Society brings bonsai artist, Suthin, to speak and exhibit their work.
Remember - Matilda's Café Now Open
If you are visiting on Friday, Saturday and Sunday, please stop by at Matilda's Café to see what's cooking!
2014 Plant Sale
Here is a somewhat longer range welcome to Spring: The Friends 19th Annual Plant Sale is coming up the first weekend of May! Put big red stars on your calendar for the Members-Only Sale Friday, May 2nd, and the Main Event Saturday and Sunday, May 3rd & 4th.
This year's Plant Sale Preview Talk is Thursday, April 10th. Plant lover Sue Acheson gives her take on great plants including her favorites (and there are a lot of them). Click here to register on line.
We have added lots of plants to our On-Line Plant List so take a look and start your wish list. Also, there are several new articles on our Plant Sale Page where you can the whole scoop on this year's Plant Sale.
Retail Partners
As a member of The Friends of The Frelinghuysen Arboretum you can enjoy discounts at our Retail Partners. Please show your Friends' membership card at time of purchase. Click here to see the up-to-date list of fine vendors.

Welcome Our Newest Retail Partner
Please welcome The Friend's newest retail partner: Condursos Garden Center. From starting seeds to a lush outdoor sanctuary, Condursos full service Garden Center & Nursery is the one-stop resource for garden lovers. Since 1929 - celebrating more than 80 years as a local, family-owned nursery, they are open year round.
Condursos' friendly and knowledgeable staff is there to help you. Bring your Friends Membership card to enjoy 10% off the regular retail price on all green goods (see our Retail Partners Page for details).
Prior Featured Retail Partner articles may be accessed by clicking here.
Shopping at Whole Foods in April?
Please support the Morris County Park Commission by scheduling your shopping on April 9th.
Click on the flyer at left for more information.
All our events can be found on our Events Page where, we are happy to say, you can register and pay on line -- just click on the "Add to Cart" buttons on our Events page and Membership page. Alternatively, you may register by calling 973-326-7603.