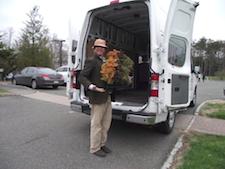 Atlock Farms Coleus
The Plant Sale is This Weekend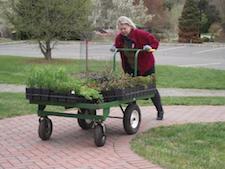 Neither rain nor cold will stop ...
Full steam ahead to the Plant Sale!
Here are some pictures of Volunteers getting the plants ready for you. (Click on images to enlarge)
See below for more links.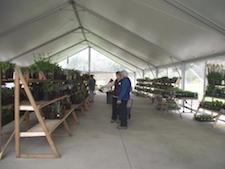 Boning up on Latin names in the tent
Our Electric Tent
Those of you visiting the Arboretum may have seen trenches being dug in the area by the Mansion. This work will allow electricity to be brought to the Tent.
We are excited about the prospect of concerts and other programs at the Tent and will keep you posted on the progress of this project
Matilda's Café
Matilda's Café will be open for the Plant Sale on Friday evening, and all day Saturday and Sunday. Here's their menu (click on the image to enlarge).
What's Cooking
There are still a few spots left in Sunday, May 18th Cooking Demonstration: Of Cabbages and Kings.
Sample broccoli rabe, an unusual cole slaw, kohlrabi (have you ever?) , and a stuffed savoy cabbage. Click on the title to register on-line.
Grow, Cook, Eat -- Heirloom Tomatoes
On Wednesday, May 21, learn how to coddle and cook those heirloom tomatoes you bought at the Plant Sale at Grow, Cook Eat. Click on the title to register on-line.
BTW: make sure you engage our Jr. Master Gardeners in conversation at The Plant Sale. You will be amazed at their depth of knowledge on the subject of lycopersicums!
Beatrix Potter's Gardening Life
We have seen some rabbits in the garden this week.
If you are a fan of Peter Rabbit, you'll want to hear Marta McDowell's talk on Beatrix Potter's Gardening Life on Sunday, June 22. Click the flyer to register on-line.
Friends Annual Meeting
Be on the lookout for your invitation to the Annual Meeting on Sunday, June 15 with special guest speaker, John Danzer. John, who just won an award from the New York Horticultural Society for his design of the most beautiful garden furniture in the world, will be talking about his work and the history of garden furniture.
Here's a great idea for Father's day: bring Dad to the talk, then go home and let him lounge in his favorite garden chair for the rest of the day!
What's in Bloom At the Arboretum
Coming for a walk? Check out what's in bloom right here with our on-line What's in Bloom list, maintained by volunteer Phil Dahlen.

2014 Plant Sale
At the risk of repeating ourselves, The Friends 19th Annual Plant Sale is this weekend! Put big red stars on your calendar for the Members-Only Sale Friday, May 2nd, and the Main Event Saturday and Sunday, May 3rd & 4th.
Click here to register for the Friday night event or here for membership information.
We have added lots of plants to our On-Line Plant List so take a look and start your wish list. Also, there are several new articles on our Plant Sale Page where you can the whole scoop on this year's Plant Sale.
Retail Partners
As a member of The Friends of The Frelinghuysen Arboretum you can enjoy discounts at our Retail Partners. Please show your Friends' membership card at time of purchase. Click here to see the up-to-date list of fine vendors.
Featured Partner Articles
Great updates from two of our Retail Partners:
This and prior Featured Retail Partner articles may be accessed by clicking here.
All our events can be found on our Events Page where, we are happy to say, you can register and pay on line -- just click on the "Add to Cart" buttons on our Events page and Membership page. Alternatively, you may register by calling 973-326-7603.