We know people's schedules are busy, so walk-ins to the speaker programs are welcome. However, early registration will guarantee you a seat and will help us plan.
Rob Cardillo: The Art of Garden Photography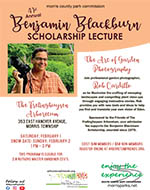 Saturday, February 1 – Snow Date: Sunday, February 2
Since 1979, the Friends of The Frelinghuysen Arboretum have supported horticultural education through a scholarship named for Dr. Benjamin Blackburn, a professor of Botany at Drew University. Dr. Blackburn published many articles and wrote a number of books on gardening as well as being the host of a very popular radio program.
Please join professional garden photographer Rob Cardillo as he illustrates the crafting of sweeping landscapes and compelling plant close-ups through engaging, instructive stories. From pre-visualizing to post-processing, Rob will provide you with new tools and new ideas to help you find and translate your own vision of Eden, even if you only use an iPhone.
Mr. Cardillo has been the photographer for a number of gardening books, adding his visually stunning photos to books such as:
The Layered Garden by David L. Culp and,
The Art of Gardening: Design Inspiration & Innovative Planting Techniques from Chanticleer by R. William Thomas
Admission fees support the scholarship that is offered to students in the Landscape Technology Program at County College of Morris.
Light refreshments follow the talk.
This program is eligible for 2.0 Rutgers Master Gardener CEU's.
Click on the flyer for more information and to register.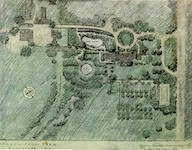 Merchiston Farm
Sunday, March 1
Martha Brookes Hutcheson was the second female landscape architect in the United States and her property, Merchiston Farm, now called Bamboo Brook Outdoor Education Center, is part of the Morris County Park system. Her gardens have been restored and her design aesthetic is in evidence there, as it is in many gardens throughout the Northeast. She was a woman who bucked convention and was ahead of her time in so many ways. Her book, Spirit of the Garden, was re-issued by the American Society of Landscape Architects in 2001 and is still as relevant today as it was when it was first published in 1923 to rave reviews.
Join Professors Laura Lawson, Connie Webster, Anette Freytag, Kathleen John-Alder and Jean Marie Hartman of the Landscape Architecture Department at Rutgers University for a symposium about women in Landscape Architecture, past and present.
Bring a bag lunch. Drinks will be provided.
This program is eligible for 4.0 Rutgers Master Gardener CEUs.
Click on the picture of Merchiston Farm for more information and to register.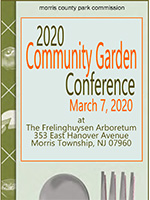 Saturday, March 7 – Snow Date: Sunday, March 8
Remember: Earlybird Pricing expires January 31st, so register soon.
The Friends of The Frelinghuysen Arboretum and Rutgers Cooperative Extension of Morris County are teaming up to present their Annual Community Garden Conference for the tenth year in a row. We can hardly believe that it's been 10 years since the first conference was held and this year we are bringing back our very first keynote speaker, Dr. Laura Lawson!
The impressive list of session speakers, all experts in their field, will cover topics relevant to community gardeners, garden managers, and those trying to establish a new community garden. The topics for the 2020 conference include: Weed ID and Management with County Agent and Rutgers Vegetable Expert Peter Nitzsche, Straw Bale Gardening with a team of Rutgers Master Gardeners who experimented with this type of growing throughout the 2019 season, Early Season Vegetable Gardening with Virginia Lamb, Finding and Securing Funding Sources with Samantha Rothman, Culinary Herbs with Lindsay Napolitano and back by popular demand, Farmer Shaun Ananko on Succession Planting.
Join us for a full day of education, exhibitors, networking and camaraderie. Lunch is provided.
This program is eligible for 5.0 Rutgers Master Gardener CEU's.
Please bring a donation for the Interfaith Food Pantry of Morris County.
Click on the flyer for more information and to register.


ANNOUNCING A NEW RETAIL PARTNER
Wild Birds Unlimited®
Denville Commons Shopping Center
3130 Route 10 West, Denville
973 629-7636
www.wbu.com/denville

They offer Members of the Friends of The Frelinghuysen Arboretum a 10% discount off all items.
VOLUNTEER NEEDED
The Friends of The Frelinghuysen Arboretum are looking for a Volunteer with knowledge of AV systems who would be able to help with setups for some of our programs. This would involve assisting speakers in setting up the projector, laptop, mic, and any other AV assistance required by the speaker.
The Volunteer would be welcome to remain for the program free of charge; scheduling is flexible.
Anyone interested, please contact Margery Ennist at mennist@morrisparks.net. Thank you!
Free Affiliate Member Programs
Garden Club of Morristown
Wednesday, January 22 – 10:30 AM
Topic: Katy Kinsolving, of the Cary Institute of Ecosystem Studies in Millbrook, New York and co-founder of C-Change Conversations will speak on the effects of food production on climate change.
New Jersey Mycological Association
Sun Jan 26, 2020 - 12N - 4:00p
Regular Meeting.
North American Butterfly Association
Tue Feb 4, 2020 - 7:30p
Topic: "Brilliant Butterflies of Panama" – Sharon Wander
Affiliate member programs are all free and open to the public.
TRAIL CLOSINGS
To all who use the trails at The Frelinghuysen Arboretum, please note that some much needed maintenance and restoration will be going on over the next several months. To expedite the work and for safety reasons, the trails and gardens around the Mansion and other parts of the property will be closed from approximately mid-October through mid-January, depending on weather.
Please stay off the trails wherever you see this sign. We will keep you advised as to when the trails will reopen. Thank you for your cooperation!
When shopping at our fine Retail Partners, please remember to present your Membership card at the beginning of your check out transaction. Our Retail Partners need to enter the discount at the beginning of that process.
If you have not yet used this wonderful Member Benefit, you can view our full list of Retail Partners by clicking here.
Amazon Smile
Don't forget to "SMILE!"Amazon Smile, that is!
Amazon, through the AmazonSmile Foundation will contribute 0.5% of your purchases on Amazon to a charitable organization you select. Please consider selecting The Friends of the Frelinghuysen Arboretum as your designated recipient from this wonderful program.
Click here and log in to your amazon account to designate the Friends as your charity.
All our events can be found on our Events Page where, we are happy to say, you can register and pay on line -- just click on the "Add to Cart" buttons on our Events page and Membership page. Alternatively, you may register by calling 973-326-7603.