We know people's schedules are busy, so walk-ins to the speaker programs are welcome. However, early registration will guarantee you a seat and will help us plan.
PLANT SALE 2020
Dates:
Details on our website's Plant Sale page.
VOLUNTEERS NEEDED!
The Friend's Annual Plant Sale this year runs Friday through Sunday, May 1 - 3, 2020 and we could use your assistance before, during and after it!
If you can help, details and on-line signup are on our Plant Sale Volunteer page.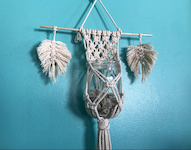 Saturday, March 14
What's old is new again! Join Samantha Matthews to create a beautiful macramé hanging planter. Learn a few basic knots to create your own handmade wall hanging in this beginner macramé class.
You will leave with a finished wall hanging and the knowledge to design future pieces.
Class fee includes all materials.
Click on macramé photo for more information and to register.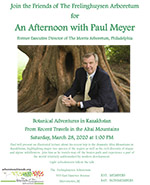 Saturday, March 28
Join Paul Meyer, recently retired Executive Director of the Morris Arboretum in Philadelphia, for an illustrated lecture on his recent trip to the dramatic Altai Mountains in Kazakhstan.
He will highlight major tree species of this region as well as the rich diversity of steppe and alpine wildflowers. Join him as he and his fellow adventurers travel well off the tourist path and experience a part of the world relatively unblemished by modern development.
This program is eligible for 2.0 Rutgers Master Gardener CEUs.
Click on flyer for more information and to register.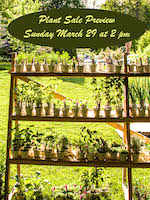 Sunday, March 29
The Plant Sale team will preview favorite plants ordered for the annual sale, share planting tips to help you shake off your winter doldrums and look forward to our fun spring event on May 1-3. You'll also be able to pre-order selected plants after the talk that won't be available at the sale.
This program is eligible for 1.5 Rutgers Master Gardener CEUs
The program is FREE, but registration is required.
Click on flyer for more information and to register.
BLACKBURN SCHOLARSHIP APPLICATION PERIOD OPENS
If you are a student in County College of Morris's Department of Landscape and Horticulture Technology, you may be eligible for a scholarship funded by the Friends of The Frelinghuysen Arboretum and the Watnong Chapter of the North American Rock Garden Society (NARGS).
Get the details, instructions and application form on our website's Blackburn Scholarship page. Note that applications must be postmarked no later than April 10, 2020.
Please pass this information along to anyone you think may be interested.
Free Affiliate Member Programs
Frelinghuysen Arboretum Gesneriad Society
Thu Mar 5, 2020 - 7:30p
Propagation Workshop RSVP required, reply to Karyn Cichocki, kdc05@ptd.net
New Jersey State Chrysanthemum Society
Fri Mar 6, 2020 - 1:00p - 3:00p
Program: An illustrated talk on Gardens of the Pacific Northwest, home to many spectacular and very interesting gardens.
Mum Topic: Evaluating wintered-over mums and preparations for the 2020 growing season.
Great Swamp Bonsai Society
Tue Mar 10, 2020 - 6:30p - 9:30p
To receive a free newsletter for updates and events, please email club president John Michalski at huonia@aol.com.
Home Garden Club of Morristown
Wed Mar 18, 2020 - 11:30a
11:30 am - Meeting
1:00 pm - "Through the Garden Gates of England" a photographic tour of private and public gardens with a discussion of characteristic elements and practices.
Affiliate member programs are all free and open to the public.
TRAIL CLOSINGS
Please be advised that the Trail restoration project has been temporarily halted due to winter weather conditions. The Trails will be open during this interim break but construction will begin again in late March and continue through April.
Please come into the Haggerty Education Center to consult the Trails Map displayed in the Lobby for more information. Thanks again for your patience while we make these necessary site improvements.
Stay tuned and thank you for your patience!
When shopping at our fine Retail Partners, please remember to present your Membership card at the beginning of your check out transaction. Our Retail Partners need to enter the discount at the beginning of that process.
If you have not yet used this wonderful Member Benefit, you can view our full list of Retail Partners by clicking here.
Amazon Smile
Don't forget to "SMILE!"Amazon Smile, that is!
Amazon, through the AmazonSmile Foundation will contribute 0.5% of your purchases on Amazon to a charitable organization you select. Please consider selecting The Friends of the Frelinghuysen Arboretum as your designated recipient from this wonderful program.
Click here and log in to your amazon account to designate the Friends as your charity.
All our events can be found on our Events Page where, we are happy to say, you can register and pay on line -- just click on the "Add to Cart" buttons on our Events page and Membership page. Questions or need more information? Call 862-325-7754.