We know people's schedules are busy, so walk-ins to the speaker programs are welcome. However, early registration will guarantee you a seat and will help us plan.
PLANT SALE 2020
Dates:
Details on our website's Plant Sale page.
VOLUNTEERS NEEDED!
The Friend's Annual Plant Sale this year runs Friday through Sunday, May 1 - 3, 2020 and we could use your assistance before, during and after it!
If you can help, details and on-line signup are on our Plant Sale Volunteer page.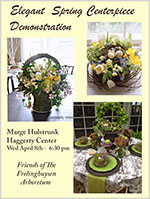 Wednesday, April 8
Professional Floral Designer Marge Hulstrunk demonstrates how to create an elegant spirng centerpiece.
She will share tips sure to make you confident about creating your own centerpiece at home. There will be a raffle afterward and lucky winners will take Marge's creations home.
Click on the flyer for more information and to register.
BLACKBURN SCHOLARSHIP APPLICATION PERIOD OPENS
If you are a student in County College of Morris's Department of Landscape and Horticulture Technology, you may be eligible for a scholarship funded by the Friends of The Frelinghuysen Arboretum and the Watnong Chapter of the North American Rock Garden Society (NARGS).
Get the details, instructions and application form on our website's Blackburn Scholarship page. Note that applications must be postmarked no later than April 10, 2020.
Please pass this information along to anyone you think may be interested.
SPRING HAS SPRUNG AT THE FRELINGHUYSEN ARBORETUM
The Tulips are breaking ground, the Crocuses are blooming as are some of the larger shrubs like this dawn viburnum. Can Spring be far behind?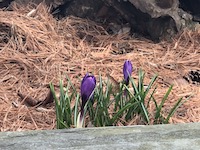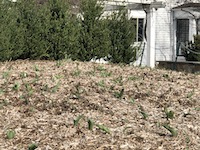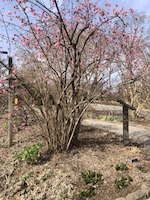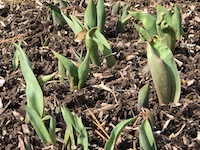 Click an image to see them all on our photo gallery page.
Free Affiliate Member Programs
Home Garden Club of Morristown
Wed Mar 18, 2020 - 11:30a
11:30 am - Meeting
1:00 pm - "Through the Garden Gates of England" a photographic tour of private and public gardens with a discussion of characteristic elements and practices.
North American Rock Garden Society – Watnong Chapter
Sat Mar 21, 2020 - 10:00a
Joseph Tychonievich, NARGS Editor, Green Sparrow Gardens, lectures on 'Rock Gardening: Reimagining a Classic Style for Today's Garden'
Northeast Judging Center of the American Orchid Society
Sat Mar 21, 2020
Anyone may bring an orchid to be judged or listen in on the educational programs.
10:00a Educational Program
12 Noon Orchid Judging
New Jersey Mycological Association
Sun Mar 22, 2020 - 12N - 4:00p
Meeting.
Affiliate member programs are all free and open to the public.
TRAIL CLOSINGS
Please be advised that the Trail restoration project has been temporarily halted due to winter weather conditions. The Trails will be open during this interim break but construction will begin again in late March and continue through April.
Please come into the Haggerty Education Center to consult the Trails Map displayed in the Lobby for more information. Thanks again for your patience while we make these necessary site improvements.
Stay tuned and thank you for your patience!
When shopping at our fine Retail Partners, please remember to present your Membership card at the beginning of your check out transaction. Our Retail Partners need to enter the discount at the beginning of that process.
If you have not yet used this wonderful Member Benefit, you can view our full list of Retail Partners by clicking here.
Amazon Smile
Don't forget to "SMILE!"Amazon Smile, that is!
Amazon, through the AmazonSmile Foundation will contribute 0.5% of your purchases on Amazon to a charitable organization you select. Please consider selecting The Friends of the Frelinghuysen Arboretum as your designated recipient from this wonderful program.
Click here and log in to your amazon account to designate the Friends as your charity.
All our events can be found on our Events Page where, we are happy to say, you can register and pay on line -- just click on the "Add to Cart" buttons on our Events page and Membership page. Questions or need more information? Call 862-325-7754.