CORONAVIRUS ANNOUNCEMENTS
GARDENS CLOSED
All Morris County parks, including the Frelinghuysen, Willowwood and Bamboo Brook Arboreta, are closed to the public until further notice. See the current announcement on the Morris County Parks Commission's website.
We will keep you posted as later news becomes available.
BLACKBURN SCHOLARSHIP
The Covid-19 epidemic has caused serious disruptions to all the students and faculty at County College of Morris, so we have decided to postpone awarding a Blackburn Scholarship until next year. Best wishes to all of you and stay healthy.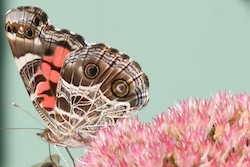 American Lady Vanessa
BUTTERFLIES IN THE GARDEN
Butterflies will soon be visiting our gardens and we'll want to make sure they are welcomed with the right kinds of host, food and nectar plants. Butterflies go through basically two kinds of eating stages: caterpillars consuming food plants and adult butterflies consuming flower nectar.
The host plants are the ones butterflies lay their eggs on so that when they hatch, the caterpillars will have a ready source of food, for example, Milkweed where the Monarch female lays her eggs and the hatching caterpillars eat the leaves.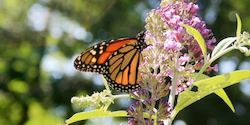 Monarch on Buddleia
Attracting butterflies to your garden is fairly simple as long as we keep their needs in mind. The best strategy is to plant a large area, with a variety of flowers that bloom over an extended period of time, Spring through Fall.
A combination of perennials and annuals works well because the perennials bloom for shorter periods of time and the annuals bloom for the whole season, filling in the gaps between perennial bloom times.


Spotted Skipper
The following are good flower sources for Spring through Fall:
Spring: Rhododendron, Lilac, Allium, Lunaria, Chives, Cherry, Forget-me-Not, Honeysuckle
Summer: Ageratum, Heliotrope, Lantana, Scabiosa, Butterfly Bush, Coreopsis, Bee Balm, Phlox, Purple Coneflower, Zinnia
Fall: Verbena, Nicotiana, Cosmos, Zinnia, Sedum, Aster, Statice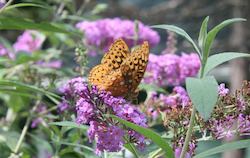 Great Spangled Fritillary
Butterflies also like some wildflowers such as Dandelion, Clover, Queen Anne's Lace, Yarrow. Some folks think of these as weeds, but if you have an area in your garden that's a little out of the way, the butterflies will appreciate these flowers as well!
Another thing that will attract butterflies to your garden is an area where they can "puddle". Butterflies don't consume water like other creatures do, but a moist area in the soil where evaporating water has released minerals and sodium to the surface will attract certain species of butterfly such as admirals, skippers and swallowtails.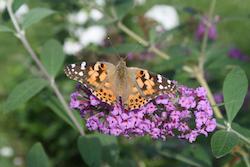 Painted Lady
Studies have shown that most of the butterflies that engage in puddling are male, looking for the sodium important during the mating period.
Enjoy these delicate winged beauties as they flutter around your garden and feed on your flowers!
Click on any of the butterflies to see them enlarged on our website's photo gallery.
Free Affiliate Member Programs
Northeast Judging Center of The American Orchid Society
Sat Apr 18, 2020 - 10:00a - CANCELLED
10:00 am - Educational Program
12:00 pm - Orchid Judging
Anyone may bring an orchid to be judged or listen in on the education programs.
The New Jersey Mycological Association
Sun Apr 19, 2020 - 1:30p - CANCELLED
Guest speaker: Christian Schwarz. Topic: Collecting Mushrooms
Christian Schwarz is a mushroom enthusiast, taxonomist and citizen science advocate from Santa Cruz, the land of milk (caps) and honey (mushrooms). He studied at UCSC, and now spends his time photographing, teaching about and making scientific collections of macrofungi. He is co-author of Mushrooms of the Redwood Coast, and is slowly building a mycoflora for Santa Cruz County. He also writes a blog called Notes of a Mycophile.
Great Swamp Bonsai Society
Tue Apr 21, 2020 - CANCELLED
Time of daytime workshop to be announced Workshop (paid) with guest artist Suthin Sukosolvisit, fresh from the Mid-Atlantic Bonsai Societies' Spring Festival in Hershey, PA.
6:30p - 9:30p Evening presentation with same
Tri-State Hosta Society
Sat Apr 25, 2020, 12:30p - 3:00p - CANCELLED
Annual plant sale.
This is a members only event, but anyone interested in purchasing the latest in hostas can gain admittance by purchasing a one year membership at the door for $10.
Affiliate member programs are all free and open to the public.
When shopping at our fine Retail Partners, please remember to present your Membership card at the beginning of your check out transaction. Our Retail Partners need to enter the discount at the beginning of that process.
If you have not yet used this wonderful Member Benefit, you can view our full list of Retail Partners by clicking here.
Amazon Smile
Don't forget to "SMILE!"Amazon Smile, that is!
Amazon, through the AmazonSmile Foundation will contribute 0.5% of your purchases on Amazon to a charitable organization you select. Please consider selecting The Friends of the Frelinghuysen Arboretum as your designated recipient from this wonderful program.
Click here and log in to your amazon account to designate the Friends as your charity.
All our events can be found on our Events Page where, we are happy to say, you can register and pay on line -- just click on the "Add to Cart" buttons on our Events page and Membership page. Questions or need more information? Call 862-325-7754.