CORONAVIRUS ANNOUNCEMENTS
GARDENS CLOSED
All Morris County parks, including the Frelinghuysen, Willowwood and Bamboo Brook Arboreta, are closed to the public until further notice. See the current announcement on the Morris County Parks Commission's website.
We are told that the Arboretum will TENTATIVELY reopen on May 15th. Please continue to check here and at the above link for confirmation before visiting.
We will keep you posted as later news becomes available.
BLACKBURN SCHOLARSHIP
The Covid-19 epidemic has caused serious disruptions to all the students and faculty at County College of Morris, so we have decided to postpone awarding a Blackburn Scholarship until next year. Best wishes to all of you and stay healthy.
TULIP PLANTINGS AT THE FRELINGHUYSEN ARBORETUM
We weren't scheduled to send an eblast this week, however, we have just received the completed video of the Tulip plantings at The Frelinghuysen Arboretum and we're very anxious to share it with you. We know it's not the same as strolling the Arboretum grounds, but we hope you enjoy this virtual tour of the lovely Tulips in full bloom.
Thank you so much to all our Members and Donors who contributed towards the purchase of the Tulip bulbs and made this lovely display possible!
YouTube link: www.youtube.com/watch?v=kM-gB0krbhk
NATIONAL PUBLIC GARDENS WEEK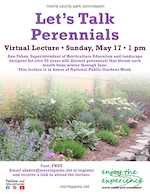 MAY 8 - 17, 2020
National Public Gardens Week started in 2009 with then partner Rain Bird, to drive local and national exposure to the importance of building vibrant, relevant gardens committed to community enrichment and environmental responsibility through community engagement, sustainable practices and conversation.
The Morris County Park Commission is offering the following virtual program in conjunction with National Public Gardens Week. Information about the program and how to register can be found in the flyer below.
Click on the flyer for more information.
When shopping at our fine Retail Partners, please remember to present your Membership card at the beginning of your check out transaction. Our Retail Partners need to enter the discount at the beginning of that process.
If you have not yet used this wonderful Member Benefit, you can view our full list of Retail Partners by clicking here.
Amazon Smile
Don't forget to "SMILE!"Amazon Smile, that is!
Amazon, through the AmazonSmile Foundation will contribute 0.5% of your purchases on Amazon to a charitable organization you select. Please consider selecting The Friends of the Frelinghuysen Arboretum as your designated recipient from this wonderful program.
Click here and log in to your amazon account to designate the Friends as your charity.
All our events can be found on our Events Page where, we are happy to say, you can register and pay on line -- just click on the "Add to Cart" buttons on our Events page and Membership page. Questions or need more information? Call 862-325-7754.