CORONAVIRUS ANNOUNCEMENTS
GARDENS CLOSED
All Morris County parks, including the Frelinghuysen, Willowwood and Bamboo Brook Arboreta, are closed to the public until further notice. See the current announcement on the Morris County Parks Commission's website.
The Morris County Park Commission has extended the closure of the Arboretum grounds and buildings until at least June 30. Please continue to check here and at the above link for confirmation before visiting.
We will keep you posted as later news becomes available.
BLACKBURN SCHOLARSHIP
The Covid-19 epidemic has caused serious disruptions to all the students and faculty at County College of Morris, so we have decided to postpone awarding a Blackburn Scholarship until next year. Best wishes to all of you and stay healthy.
TULIP PLANTINGS AT THE FRELINGHUYSEN ARBORETUM
We have just received the completed video of the Tulip plantings at The Frelinghuysen Arboretum and we are very anxious to share it with you. We know it's not the same as strolling the Arboretum grounds, but we hope you enjoy this virtual tour of the lovely Tulips in full bloom.
Thank you so much to all our Members and Donors who contributed towards the purchase of the Tulip bulbs and made this lovely display possible!
YouTube link: www.youtube.com/watch?v=kM-gB0krbhk
Cooking with Cynthia - Arugula Vichyssoise
Join chef and master gardener Cynthia Triolo in her kitchen in this YouTube video, Cooking with Cynthia - Arugula Vichyssoise as she demonstrates how to make this light soup with fresh arugula.
Presented by the Friends of the Frelinghuysen Arboretum Chef and Master Gardener Cynthia Triolo.
YouTube link: youtu.be/DQ8GI41MRL4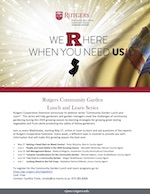 Rutgers Community Garden Lunch & Learn Series
Rutgers Cooperative Extension announced a community gardening Lunch and Learn series that begins Wednesday May 27 that continues through July 1.
The lectures will be held on Wednesdays from noon to 1pm. Click on the flyer for more details.
LILAC PRUNING
Lilac shrubs benefit from an annual pruning and now is a good time to do it, after they have bloomed for the season.
Pruning can be done in three different ways: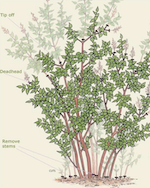 Deadheading. Deadheading faded flowers directs the plant's energy into new growth. Keep in mind that Lilacs bloom on new growth, so deadheading will provide more flowers next season.
Tipping Off. If a shoot is healthy but too tall, tip it off by cutting it back to a pair of side shoots at the desired height.
Removing stems. Remove diseased, misshappen and unproductive stems to clear the way for new, healthy stems. Old stems become less and less productive and, if not grafted, should be cut back to the ground. If your Lilac has been grafted, it should be easy to see a slight swelling at the graft union several inches above ground level as well as a difference between the bark of the rootstock and the bark of the scion where the two join. If your Lilac has been grafted, you must make your cuts above the graft union. New shoots and suckers should be thinned out to keep them properly spaced around the shrub.
Refer to the diagram at right (click to enlarge) to see where to make cuts.
It should be noted that dwarf Lilacs, such as 'Miss Kim', rarely require pruning.
When shopping at our fine Retail Partners, please remember to present your Membership card at the beginning of your check out transaction. Our Retail Partners need to enter the discount at the beginning of that process.
If you have not yet used this wonderful Member Benefit, you can view our full list of Retail Partners by clicking here.
Amazon Smile
Don't forget to "SMILE!"Amazon Smile, that is!
Amazon, through the AmazonSmile Foundation will contribute 0.5% of your purchases on Amazon to a charitable organization you select. Please consider selecting The Friends of the Frelinghuysen Arboretum as your designated recipient from this wonderful program.
Click here and log in to your amazon account to designate the Friends as your charity.
All our events can be found on our Events Page where, we are happy to say, you can register and pay on line -- just click on the "Add to Cart" buttons on our Events page and Membership page. Questions or need more information? Call 862-325-7754.